It's that time of the year again. The South African horseracing community is abuzz with a rather plain bay son of Durban July winner Greys Inn.

Sean Tarry's Legal Eagle took on and beat some serious opposition at Kenilworth on Saturday and edged a step closer to a historic third L'Ormarins Queen's Plate victory next month.
The previous horse to achieve this feat was Pocket Power back in 2010.
A major plus for Legal Eagle supporters and backers looking to recoup some Met losses in 2018 will be the fact that the physical specimen that greeted racegoers at Kenilworth on Saturday looked to be in his prime.
"He's shouldered and filled out. He is bigger in front and more powerful behind than he was last season.  He's a living argument for the theory that we should start racing horses later and let them stay in training longer. We are too anxious to get them on to the track and then start looking at retirement when they are just 5 or 6. The way he looks right now, Legal Eagle could well be back for more in 2019 and beyond," said an informed  observer.

Legal Eagle started racing as a 3yo and finished ten lengths back on his October debut. Six months later, he won the Gr1 SA Derby and he has never looked back since.
Avontuur GM Pippa Mickleburgh, who bred the champion, and a good few others in her 30 years, calls the gelding a 'once-in-a-lifetime horse' and said he was the epitome on four legs of the dream merchant branding that sales companies ride on.
Click on the image below and catch up with the latest

"Nobody is saying that R425 000 is small money – but that's what we got for him and he has earned close on R10 million. A bloody dream horse to own in any man's language!" said the veteran breeder.
She reflected back on how the Eagle dream had started.

"Kevin Sommerville was still working for Robin Bruss and he let me know that Young Sensation was on the market. She was a four-time winner. Not too big but she was sound, tough and courageous according to Sean Tarry. So she ticked the boxes and was already stakes placed – and she had a nice dam line and then even won a further two for us before she came to stud," she added.
Legal Eagle's granddam Fair Model raced in the Terry Young (he bred Young Sensation) silks and won four times from 1200m to 1400m, including impressive scores in the Gr1 Allan Robertson Championship and the Gr1 Bloodline Fillies Championship. She ran thirteen places and was runner-up in the Cape Fillies Guineas, the colt's Guineas and the Paddock Stakes.

But that's all theory and statistics and it wasn't easy going – that is, until Young Sensation's third foal arrived.
And why send her to Greys Inn in the first place?
"I usually work out the mating based on my own vision in terms of physical suitability and other elements and then go to the Goldmine and Tesio programme for a second opinion. But this time I knew that the Zabeel cross with plenty of Northern Dancer in the dam-line is a nick that has worked all over the world. So when I tried Greys Inn with Young Sensation, the computer went crazy! The rest is history, isn't it?" she laughed.

Pippa recalls what a standout Legal Eagle was in her batch of youngsters that year.
"Oh hell, he was a real looker! But the market can be fickle and while Greys Inn is a beautifully bred horse with a great track record, he was not yet necessarily the flavour of the month then. But Sean Tarry has proven that he has a great eye and he was determined to get him – very cheaply, in hindsight!" she says.
There is plenty of emotion in the Legal Eagle story for Pippa. Her late Dad, David, a top racing journalist of his time, named Legal Eagle.  Quite cleverly, too! The Honourable Society of Gray's Inn  is one of the four Inns of Court in London. To be called to the Bar and practise as a barrister in England and Wales, an individual must belong to one of these Inns.
Young Sensation made the rest a no-brainer!
All the non-racing pics are kind courtesy of Avontuur
‹ Previous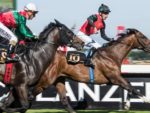 Cape Guineas – The Final Field