The traditional blue and white that has become the hallmark of the L'Ormarins Queen's Plate day will definitely apply at the glamorous two day festival to be held at Kenilworth Racecourse on Friday 5 and Saturday 6 January.
A concerned Racing Association member has requested that the Sporting Post reinforce that the glamorous social extravaganza will definitely be dominated by the classical blue and white branding of L'Ormarins.
The LQP website confirms that Ladies and Gentlemen are required to dress in a manner appropriate to a smart occasion adhering to the dress code of blue and white. Outfits should be elegant.
The call came after an invitation doing the rounds from the Chairman and Directors of the Racing Association to a luncheon in the Somerset Room on Saturday failed to make any reference to the blue and white theme of one of the biggest Cape racing and social events of the season.
"This may appear to be a snub to a leading sponsor. I think it's an error but it's just plain unprofessional. They even spelt Somerset Room incorrectly. How do you invite people and then potentially embarass them – especially the ladies?" he asked.
For further information on the big day – click here
‹ Previous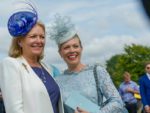 SA Champion Owner Race Is Open