A few years ago, when the mighty mare Zenyatta was retired, her connections arranged a farewell appearance at Keeneland on 6 December 2010. Over 1,000 fans turned up simply for a glimpse of their hero. They braved snow, freezing temperatures and a 2 hour delay for a 20 minute audience with 'The Queen'. In her usual style, Zenyatta did not disappoint, doing her trademark high-stepping dance for her fans one last time. Her groom, Mario Espinoza led her around the ring, stopping occasionally to allow a lucky few to reach out and touch that famous mahogany coat. The Daily Racing Form tells of one young woman marvelling "I actually touched her!" as her friends stopped to put their hands in hers, laughing, as if wanting to pick up whatever it is that made Zenyatta special.
That adoration and childlike wonder made for such a beautiful mental image, that it's always stuck with me.
A few weeks ago, I bumped into Candice Robinson ahead of the Durbanville Ready To Run sale. She was just back from a trip to the UK where she'd met the great dressage rider, Carl Hester and got to pat his wonderful horse Valegro. As we share a passion for dressage, I rushed up to say hi, demanded to know which hand she'd stroked Valegro with and held my hand up against hers, which made her laugh.
An amazing, amazing little horse
I recently dropped by to visit Candice and her 'little horse that could', Marinaresco, who swept us all up in 2016 with his Winter Series campaign, that amazing run in the 2016 Vodacom Durban July and that even more amazing Gr1 Mike & Carol Bass Champions Cup win to close the season as well as bring down the curtain on Mike's career on a high.
This year, the little horse went one better, serving up a racing fairy tale on a shiny silver platter in winning Candice the Vodacom July in her first year of training, at top weight, carrying Pocket Power's silks, and performing the feat with the same jockey that rode Pocket for so much of his career. When we spoke on 2 July, she said, "He's just an amazing, amazing little horse."
Marinaresco closed the 2016/17 season with another tilt at the Gr1 Champion Cup, but the double was not to be and he finished towards the back of the field, although I don't think anyone minded too much.
Since his Durban campaign, he's had a good rest at Soetendal spelling farm outside Wellington and has recently re-joined the Bass yard for his Cape summer campaign.
A special visit
A visit to the Bass racing stable is always a treat. There are fabulous horses, all in fabulous condition, interesting conversation with any one of the number of interesting and fascinating people who gravitate towards the Bass ring in the morning and you are always welcomed and accepted as part of the bunch.
I arrive in the hiatus between strings and find Candice sitting behind her desk in the back office attending to some paperwork. Although my appointment seems to have gone missing somewhere along the line, Candice is entirely unphased. "There's no racing today, so it's a good time for a visit," she smiles graciously.
The office has been repainted and rearranged since my last visit and it feels light and airy. The left hand corner of the back office has been turned into a trophy shelf and also boasts a gorgeous vase of white roses. Taking up most of the wall space behind the desk is a huge commemorative frame of Pocket Power's Queen's Plate wins and there are more, formal framed shots on the right hand wall, with some other favourite snaps printed out and tucked into some of the other available space.
While Candice attends to a phone call, work rider Belinda Haytread breezes in along with a group of young jockeys, all rosy cheeked from the gallops. As I introduce myself, Belinda also sticks out her hand and teases that it's been so long between visits that she needs to do the handshake thing. Then she grabs a seat and joins us with her energy drink.
As she rides Marinaresco most mornings, I jump in and ask how he's getting on. "Fresh!" she laughs. "But he's feeling good." What's he like to ride? "Cheeky!" she grins, "You do not canter up behind him, or he'll squeal and buck. He hates other horses too close. That's why we ride him in blinkers. But other than that, he's a lovely ride. He's got a stride THIS long," she flings her arms apart for emphasis.
Candice finishes her call and beams that after months of searching, she's just had an offer accepted on a new house and congratulations are offered all round. She shares a few details and then it's back to business.
Marinaresco
Candice confirms that Marinaresco has settled back into his routine well. Asked if he's come back any different to last season, she says "No, not really." He hasn't grown at all? I tease. "No, still the same," she smiles. I recount the story Mike told me about finding Marinaresco at the sales, saying he'd been unable to find anything better. "Yes, my dad really liked him," remembers Candice. "I arrived in Joburg and he told me he'd found a really nice horse. Quality, but a bit on the small side."
The horse's diminutive size has proved to be an advantage, and Candice confirms he's been an exceptionally sound horse, progressing through his training with little trouble. We all automatically touch wood as soon as she says it.
In terms of his Cape summer season campaign, she confirms that they're taking a different route this year. "Last year, we ran him in a Pinnacle, the Green Point, Queen's Plate and then the Met. This year, we opted for the Merchants, simply because we didn't want to run him in two mile races back to back. He needs to be fresh for the Queen's Plate." She confirms that he's had two gallops – one at Durbanville and one at Kenilworth and that he's working well as his Merchants run bears out.
Who will be riding him this season? "Aldo," she confirms. When I comment that he must be looking forward to that, she shrugs, "With Marinaresco comes pressure. That's the flip side of the coin, but I think Aldo will suit him."
Carol's mum – not looking a day over 70 – pops her head in to see what's going on and to chat about her forthcoming 90th birthday.
Candice glances out of the window and notices Dutch Philip being taken for a treatment in their new hydrotherapy unit. "Why don't you go and take a look?" she offers. Mike, having a nap on the new couch, waves as I pass.
It's not only a great opportunity to see Dutch Philip at close quarters, but also to check out the new Equi-Aid spa equipment which uses chilled, oxygenated saline water therapy, for treating injuries as well as exercise recovery and general maintenance. Along with the hydrotherapy unit, there's also a solarium installed just outside the office. As I make my way to the next door block, I notice that the stable doors have all been freshly painted in a cheerful shade of red and everything feels neat and purposeful.
Super string
Having watched Dutch Philip enjoy his spa treatment, I wander back to the office, only to find that the team have decamped to the track, so I make my way over to say my thank yous and goodbyes. I pass sprint star Tevez gleaming darkly in his stable and halfway down the row, Horizon's beautiful head with its broad forehead and delicate muzzle greets me over the stable door.
Out on the track, the wind has picked up a little and the babies are fresh. The string includes a beautifully balanced Dynasty colt, a half brother to Brutal Force and much to my delight, Unbelievable Chad, who has relocated to the Cape. We watch the horses ring and trot and a few are sent out down the track. Despite my best intentions to leave them in peace, it's impossible not to get engrossed in the horses and the snippets of conversation, particularly as Mike has come out to join the group and I stay a little longer. Eventually the strings finish and we follow the horses in.
Back in the main yard, we say hello to Our Mate Art, blinking gently and quietly accepting a bit of fuss. "Gentleman," pronounces Belinda. "Armchair ride." Our Mate Art was another Mike purchase and Mike's always had a soft spot for the good-looking bay. Candice relates that Mike selected the son of Artie Schiller on physical type at the 2015 Inglis Melbourne Yearling Sale. "He started out really well and then got galloped into before the Guineas and fractured a splint bone. He used to lighten up a lot as a 3yo, but he's a lot easier to train as a 4yo," she confides. She echoes Belinda's sentiments that he's a lovely ride with a beautiful temperament to match.
I say goodbye as Candice pops around the corner to keep an eye on a fractious horse going back to his box and it brings home that all the horses have been specially and painstakingly selected, each one's history is carefully documented and each one is special. And the horses reflect that.
On my way out (finally!), I find Marinaresco relaxing in his box and stop to admire Candice's amazing little charge. As Candice said, the break has done him the world of good and he looks fit, strong and glowing with good health. Like all the others, he puts his head over the door to say hello. I can't resist stretching out my hand to stroke him. Still cooling down from his morning exercise, his neck is slightly damp and pulsing with energy. Whether I've picked up any of what makes him special I don't know, but my hand seems to stay warm and carry his touch long after I go. An amazing, amazing little horse indeed.
‹ Previous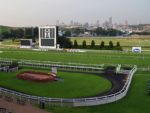 Newsflash: Turffontein Abandoned