The National Horseracing Authority of South Africa advises that an independent panel consisting of Messrs V Moodley, A Costa and R S Napier convened on 6 December 2017 by teleconference to hear a MR Appeal lodged by Trainer André Nel on behalf of the horse Hemmingway against the Merit Rating of 85 allocated after he competed and ran second in Race 5 at Kenilworth Racecourse on 22 November 2017.
The Panel were unanimous in their decision that Hemmingway, based on his two previous handicap performances and the net Merit Rating achieved in those races, would have been a more appropriate line horse.
The Panel upheld the Objection and Hemmingway  will now be rated a MR 81.  The winning horse Bernie will now have a MR 83.
The deposit fee will be returned.
‹ Previous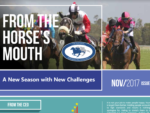 The Accountability Issue