In a press release dated 15 December 2017, it was announced that businessman and passionate racehorse owner Braam van Huyssteen has bought dual Horse Of The Year Legal Eagle from Mayfair Speculators (Pty) Ltd for an undisclosed sum.
He has brought in two partners, Brisbane-based William Henderson and Hedley McGrath, and Legal Eagle will run in Van Huyssteen's silks of dayglo yellow with purple spots. The six-time Grade 1 winner will remain in the care of ruling champion trainer Sean Tarry, according to his new owner.
Van Huyssteen, who has around 175 horses, is thrilled with his purchase, which was confirmed at lunchtime on Friday. "He's the best horse in the country," he said, adding that he is hoping Legal Eagle will provide him with his first Grade 1 victory.
Plans Unchanged
Tarry's summer plans for the champ were a bid to win the L'Ormarins Queen's Plate for the third year running and then to target the Sun Met. The first part of that plan will remain unchanged, with Van Huyssteen saying: "It makes sense for him to run in the Queen's Plate." However, he added: "But there are other avenues available to us after that. Let's get through round 1 first!"
In his eight years as an owner, Van Huyssteen has had Grade 2 celebrations with Dynastic Power and Triptique in the Betting World 1900 and Cape Merchants.
It is rumoured that Mayfair Speculators have sold Edict Of Nantes to Hong Kong interests, but this could not be confirmed.
Legal Eagle and Edict Of Nantes are joint 3-1 favourite for the Sun Met next month.
(source:  Tabnews)
‹ Previous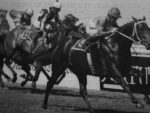 Jallad Remembered