Our FREE Buyer's Guide is an amazing, detailed summary of dam and siblings of the 2018 Cape Premier Yearling Sale yearlings.
It gives insight to what to expect of yearlings in terms of class, stamina, sale price.
We will say it again – no serious buyer should be without it!
And then next week – our full analysis supplement of the Cape Premier Yearling Sale. It's in print in the Sporting Post hard copy and available at our usual stockists from Wednesday 17 January, and in digital format right here on your favourite racing and breeding website.
Click on the image below and enjoy the Buyer's Guide

‹ Previous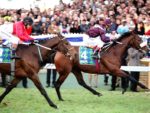 Our Kingdom For A Dynasty