GAVIN VAN ZYL
Prefers not to comment.
MICHAEL ROBERTS
Race 1 – BE HAPPY (3): Quick, scopey filly – hoping for a good run if not too green.
MARK DIXON
Race 1 – INVERROCHE (5): Nice filly – if not too green, can place.
PAUL LAFFERTY
Race 2 – ONE MOMENT IN TIME (12): A big staying type – drawn badly – will probably need the experience.
Disclaimer: A Gold Circle information initiative. The views and opinions expressed in this article belong solely to the quoted author and stable represented. None of Gold Circle, the author, trainer or trainer representative, accept liability for any damages that may arise from any reliance placed on the views expressed therein.
‹ Previous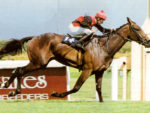 Power Of The Paddock