Martin Seidl, our hardworking German visitor, got 2018 off to a great start, making his only ride a winner – and his first winner on South African soil – at Durbanville's New Year's day meeting.
Martin chose to spend his traditional 'off season' in South Africa, not only as a holiday, but also as an opportunity to gain experience and exposure. He arrived in Cape Town on Sunday, 12 November 2017 and, taking the 'working' half of his 'working holiday' very seriously, hit the Milnerton gallops the very next day and frankly, it's been all but impossible to keep him away ever since.
The young lad's astute feel, excellent balance in the saddle and ferocious work ethic, even while on holiday, have not gone unnoticed – or unrewarded – and before completing a full week on South African soil, he'd secured his first engagement. Riding for Candice Robinson, Martin rode Chinkapin to a 5th place finish on the Kenilworth card on 18 November, as well as getting a pick up ride from Patrick Kruyer on Golden Stiletto in the last of the afternoon.
He was back in the jockey room with three rides the following Saturday and by the close of business had added a 2nd for Glen Kotzen, a 3rd for Joey Ramsden and finished 4.5 lengths back on Silver League for Snaith Racing.
December kicked off well with two engagements on Fillies Guineas day, which yielded a good third on Joey Ramsden-trained Fresnaye in the Gr1 Fillies Guineas.
Popular
December saw him riding at every meeting and highlights included a close second on I Travel Light in the Gr3 Cape Summer Stayers for Joey Ramsden on Cape Guineas day. He also celebrated his 24th birthday on 17 December.
Martin was afforded another feature race opportunity from Joey Ramsden, who booked him for Brutal Force in the Listed Southeaster Sprint and he duly finished 3rd. He closed out the year with another 2nd place on Candice Robinson-trained Hopeful, as well as two 5th places for Joey Ramsden and Eric Sands on 27 December.
New Year Win
Given his several near misses, there had been a bit of good-natured ribbing from his friends in the jockey room, and Martin arrived at Durbanville on Monday, 1 January 2018 with one ride and a determined look about him. He duly produced a decisive win on 2016's headline grabbing sales yearling, Silver Coin, for the Joey Ramsden yard. It was particularly heart-warming to see the joy from Joey, Ramsdens junior as well as Glen Hatt's daughters and friends and it is clear the likeable young rider is as popular as he is competent in the saddle.
Asked whether he was aware that Silver Coin was something of a talking horse, he says he'd had a message on social media telling him that it was an expensive horse and asking whether he was feeling any pressure. "I said no. If you go and buy an expensive car, it's because you want to have a good car. I don't know the horse, I just ride him in the morning and all I know is that the horse was working well. The rest doesn't matter. I just do my job and go."
"In Germany, I ride for a big stable and I know all the horses and their handicaps. Here I still need some time to get to know which horses are in which class, but I can say that this is the first horse I thought I'd have a chance to win a race. So I went into the race saying this is my first chance to win and I rode him like that.  I had the confidence and he was good enough. I'm very happy to have had a winner now," he confirms.
SA Experience
He was effusive in his praise of his stay so far. "I can only talk positive. I've met a lot of top, top people – not only because I'm staying with Glen Hatt who knows everybody, but also because of the other jockeys who have shown me around." He explains that a contact in Germany has been giving him travel advice on the 'must see' sights in Cape Town, but he's preferred getting to know Cape Town through the eyes of locals. "Of course there are the obvious things, but if you are with local people, you get to see things normal tourists never will. It's been top, top, top," he enthuses.
Teased about his good tan, he laughs, "I have to! I hate the cold. I know I grew up in Germany, but since I was small, I don't like the cold. When I go back in February, it will still be winter. I think I will die in those first two weeks!"
Warm Welcome
The local racing community has welcomed him with open minds, hearts and stables and he says, "In the short time I've been here, I've met so many people I can call friends. It's been really brilliant. I have to say thank you very much to Mr Ramsden giving me the opportunity to ride his horses, even in the big races. He's a very good trainer and I'm very happy he's giving me chances. After the win, he was so happy – I could see it in his eyes."
"When you ride in different places, you always improve. That's also why I came. I wanted to try different racing and to improve. I want to say thank you to all the trainers, if they don't give me chances, I can't show what I'm capable of."
With his first winner under his belt, Martin is already looking ahead and has a respectable card of rides for the Queen's Plate festival weekend. "It won't be easy, but I have a couple of nice rides, also for Mr Ramsden," he says happily. Martin has 5 rides on Friday's Queen's Plate garden party card, including Captain Gambler for Joey Ramsden in the Listed Ardmore Jamaica Handicap (race 6) and Rose In Bloom, also for Joey, in the Gr2 Cartier Sceptre Stakes (race 7) as well as three rides for Saturday.
Martin is due to return to Germany in February and says he will be putting all his new contacts to good use to try and secure a similar stint in other racing jurisdictions for more exposure and experience. "If I have the opportunity, I would 100% love to come back to South Africa and maybe stay a bit longer."
‹ Previous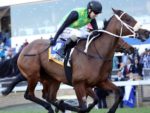 Friday On My Mind