Former SA Champion jockey Gavin Lerena is on the road to recovery after having finally been diagnosed with Glandular Fever a week ago.
In a telephone interview with the Sporting Post, his Dad Tex, a former top jockey, said that the family was pleased that blood tests had finally revealed the cause of Gavin being 'off colour'.
"It started as far back as mid-November. Gavin found himself getting extremely tired after exercise and he was unable to complete his card of rides at some meetings. In the normal course of life he felt mostly fine, but as soon as he rode work or participated in races, he found himself drained. Tests in December revealed his white cell blood count to be 18. Thankfully, subsequent tests have shown an improvement and the diagnosis came through on 4 January as Glandular Fever."
Tex added that Gavin has been booked off for ten days whereafter he will go for further tests to determine his progress.
"There is no treatment for the infection beyond rest and liquids and just allowing sufficient time for recovery. Gavin did not enjoy letting owners and trainers down by accepting rides and then being stood down. So he is as relieved as the rest of us that doctors have gotten to the bottom of it and we expect him to bounce back strongly in a few weeks."
Glandular Fever arises as a result of a viral infection and symptoms include swollen glands, tiredness and exhaustion, high temperatures and a general fatigue.
It is said that sufferers get to a point of being sick and tired of feeling sick and tired.
A past SA Champion jockey, and one of the country's foremost jockeys, Lerena was a member of the victorious Rest Of The World Team at the 2016 Shergar Cup. He also won the 2015 LONGINES International Jockeys' Championship in Hong Kong.
Despite his illness and being stood down from rides, Gavin has maintained his position on the national jockey's log and currently holds seventh spot with 54 wins and a healthy 20% win strike-rate.
He recently produced a memorable front-running ride on longshot Milton to win the Gr2 Premier Trophy at Kenilworth – at a time when his infection, in hindsight, was at its very worst.
‹ Previous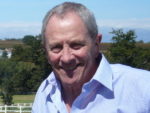 System Has Failed The Sport