Justin Snaith holds the ascendancy in pure numbers as he saddles four of the 12 runners in Saturday's L'Ormarins Queen's Plate.
The man coined 'Bieber' by his multi-champion colleague Mike de Kock – who in turn has been tagged 'Meatloaf' by the cheeky younger Justin – started out with just 22 horses in 2000 and has only won the prestigious mile once in 17 seasons, that included a SA Championship title.
Snaith won the Queen's Plate in 2012 when the brilliant Piere Strydom got Hassen Adam's outstanding Australian-bred Gimmethegreenlight up to beat the champion Variety Club. While Gimmethegreenlight is carving a career  for himself as a sire in the illustrious Varsfontein paddocks in Paarl, and Hassen Adams doesn't have a runner this year, Justin and Piere are back for more – this time with Caroline Rupert's Trippi gelding, Fifty Cents, who we doubt was named after the popular rapper.
The 5yo, the only supplementary entry, is in prime form, having won his last two starts – and would be a shock winner on any given Saturday.
‹ Previous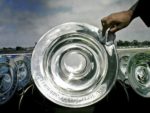 2018 L'Ormarins Queen's Plate