The R5 million Gr1 Sun Met will be run for the first time at pure weight-for-age on 27 January.
Two smashing fillies, who individually produced breathtaking performances over the past weekend, were the only supplementary entries received at the last chance saloon cut-off at 11h00 on Monday. There are now seven fairer sex gallopers in the final entries list.
Justin Snaith's Gr1 Paddock Stakes winner Oh Susanna and the Miike de Kock-trained Gr3 London News Stakes winner Cascapedia join the 28 hopefuls for a final spot amongst the 20 berths up for grabs in the Cape flagship.
Final declarations are due at 11h00 on Monday 15 January.
The Sun Met entries:
0
Legal Eagle
(6G)
60
123
AT
Sean Tarry
0
Captain America
(7G)
60
118
A
Brett Crawford
0
Marinaresco
(5G)
60
118
BA
Candice Bass-Robinson
0
Sail South
(7G)
60
117
A
Brett Crawford
0
Silicone Valley
(7G)
60
111
A
Glen Puller
0
Deo Juvente
(6G)
60
110
A
Geoff Woodruff
0
Abashiri

Scratched

(5G)
60
105
A
M G Azzie/A A Azzie
0
Krambambuli
(6G)
60
105
A
Justin Snaith
0
Nebula
(5G)
60
105
AT
Brett Crawford
0
Elusive Silva
(5G)
60
101
A
Justin Snaith
0
Black Arthur
(5G)
60
100
A
Justin Snaith
0
Coral Fever
(5G)
60
100
A
Robbie Sage
0
Mac De Lago (AUS)
(6G)
60
95
A
Weiho Marwing
0
Mambo Mime
(5G)
60
95
A
Dean Kannemeyer
0
Stonehenge
(6G)
60
89
AT
Sean Tarry
0
Edict Of Nantes

Scratched

(4C)
59.5
118
A
Brett Crawford
0
Hat Puntano (ARG)

Scratched

(4C)
59.5
116
A
M G Azzie/A A Azzie
0
Gold Standard
(4C)
59.5
113
A
Glen Kotzen
0
Copper Force

Accepted

(4G)
59.5
109
A
Justin Snaith
0
Last Winter
(4C)
59.5
107
A
Dean Kannemeyer
0
Heavenly Blue (AUS)
(4C)
59.5
106
A
Mike de Kock
0
Our Mate Art (AUS)
(4G)
59.5
103
A
Candice Bass-Robinson
0
African Night Sky

Accepted

(4G)
59.5
102
A
Justin Snaith
0
Horizon
(4C)
59.5
98
A
Candice Bass-Robinson
0
Nother Russia
(5M)
57.5
108
A
Mike de Kock
0
Nightingale
(5M)
57.5
105
A
Candice Bass-Robinson
0
Safe Harbour
(4F)
57
101
AT
Sean Tarry
0
Orchid Island
(4F)
57
98
A
Mike de Kock
0
$Cascapedia (IRE)
(4F)
56
103
BA
Mike de Kock
0
Eyes Wide Open
(3C)
54
108
A
Glen Kotzen
0
Pack Leader
(3C)
54
95
A
Glen Kotzen
0
$Oh Susanna (AUS)
(3F)
51.5
108
A
Justin Snaith
0
Silver Thursday
(3F)
51.5
95
A
Mike de Kock
(33)
‹ Previous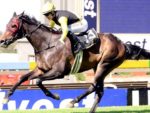 Cascapedia For Met