When I caught up with the latest member of the 'Jockeys That Have Won The Met' club, Grant van Niekerk's broad grin was audible down the phone.
When I commented that I could hear the smile on his face, he shot back "I think it will be there for quite a while!"
The 26 year old is so sincere and entirely without guile or artifice, that one immediately warms to him.
Sun Met Star
He has a stellar 2018 Met day in the bag. From 12 carded rides, he posted 4 wins (including the Gr1 Majorca and Gr1 Sun Met) and 2 places. How did the day pan out for him? "It was a great day. Obviously things went according to plan for me. It was just one of those days where you wake up in the morning, feeling confident that everything will go smoothly. From the first race to the last, it was just clear sailing for me.
Justin really turned his horses out amazingly. I would not be able to have a day like that if it was not for him. Getting to chat to Lester Piggott and seeing Usain Bolt was the cherry on the top. And meeting Miss Universe!" he grins cheekily.
How The Day Took Shape
"My day started very well. I won the first on the card and that gave me a lot of confidence going into the next race. Then along came the 4th race (the CTS 1200) where I rode Dutch Philip. I've always rated Dutch Philip. I always worked him at the Basses as a baby – I worked him and Magical Wonderland and would not be able to separate them." Commenting that it must have been a tough choice for Aldo, knowing how fond he is of the colt, Grant agrees. "Coming into this race, Magical Wonderland had the better form. It was a tough decision for him. The filly won well last time. Dutch Philip disappointed in his last start, but he had excuses. I think that's why Aldo went for Magical Wonderland. I just rode with a lot of confidence and knew that if he was back to his old self, he would be the one to beat and when I asked, he quickened like a good horse."
There has been a lot of talk about the high quality What A Winter colt and Grant concurs that he justifies the hype. "He's a phenomenal horse." Despite being a restricted sales race, it looked to be a good quality field. "It was a great result. The horses ran to form. He's beaten Kasimir before and I know Kasimir has been doing well at home. It's great to win a race like that for the Basses and especially for Marsh Shirtliff who puts a lot into racing. To win that kind of prize money was really good."
Blessing In Disguise
The Cape Flying Championship produced a false start. "Tevez broke through the front and caused the false start. I think some of the other horses couldn't pull up." The biggest problem was the knock-on effect it caused in terms of the day's schedule, particularly problematic for Grant, who originally had a full card of rides.
"Luckily my ride got scratched in the 10th race. It was actually a blessing, so I could relax a little bit. Obviously it was a busy day, but after the false start we had to catch up with time and had to rush even more, so it was such a busy day for me.
Grant rode the much talked-about Silver Coin in the Cape Derby, but after a win at Durbanville last time, the attractive son of Silvano cantered in home at the back of the pack. Grant is unconcerned about the fuss surrounding the horse, "It's just because of his price. I think the Derby was too far for him," says Grant matter-of-factly. "I think he's quite a nice sprinter and a 6 or 7 furlong horse."
Gr1 Majorca Stakes
Grant has been praising Snowdance for some time and she repaid his enthusiasm by producing what looked like an armchair ride to win the Majorca Stakes for Justin Snaith and Grant's sponsors, Drakenstein Stud. "She's a beautiful filly. She's a very straightforward ride, you know? But still very green at the same time. She likes to look around. When we hit the front, she looked around a bit, but when I got stuck in, she quickened up really well. She's really good and gives you a phenomenal feel. Her stride is enormous and she's got one big action on her. She is a top filly and will do the Snaiths proud."
Perhaps it was the sharp contrast after Richard Fourie's triumphant Derby celebrations, and perhaps the fact that Grant's exuberance often earns him the wrath of the Stipes, but noting that he looked particularly quiet and focussed riding her across the line. Grant acknowledges that with all the Met day tents and other distractions, he was just trying to keep her mind on the job. "She won easy. She is a filly that's quite free striding and I wanted to make sure she crossed the line safely. I was also focussing ahead on my ride on Oh Susanna and keeping my victory salute for the Met!" he quips.
2018 Gr1 Sun Met
With the new WFA conditions, there was a lot of anticipation for the main event. How did the race play out from his perspective? "It was rough early on. Very rough. My filly is quite big and she can bully the boys, which is good because I had to really fight to keep my position. There were a few horses that wanted to take my position. Legal Eagle tried to come in, but my filly didn't give up her position – that's what I love about her – she's really gutsy and will take the boys on. The only thing with her is that she does travel and I didn't want to fight to keep her in position because she can pull. At the 1000-1200m she picked up the bit and started travelling. I had her nicely positioned and travelling well into the straight and from there it was easy. She'd done all the work." However, he says there was a slight moment of worry. "When I went after her, she didn't give the instant response like she usually does. But when she did unwind and got into gear, I knew it was race over."
At about the 200m mark, when I could see I was going to win the race, all I thought was, 'Go girl, you can do this!' When she went past Legal Eagle I knew I had the race won. Obviously Last Winter was flying, but the race was over by then and I think she won really easily."
That winning feeling
What does a Met win feel like? "It was a great feeling, I'll be honest. I'm from Cape Town and this is a race many jockeys want to win. There's a big build up going into the race, which is phenomenal. It puts more pressure on us jockeys and makes it much more exciting to win the race. So when you do win, it's a great feeling. I can't really describe it."
Winning for his sponsor, Gaynor Rupert's Drakenstein Stud Farm, made it particularly meaningful. "I don't think there are better people to win a race for. Gaynor took me under her wing when things weren't going that well for me and when I started riding for them, things started falling into place really quickly. They are amazing people to ride for and to pay them back by being able to win these races for them is really great."
Legends
Grant had a few words of advice ahead of the race, from the master Lester Piggott. "He asked me how I was feeling and I said I was feeling good. He looked at me again and said, 'You're riding 51 – how are you feeling?' so I said I'm feeling really hungry! He just laughed. I said I'm so used to it now, I'm just concentrating on my race and how things are going to pan out." He comments that the great rider has an extraordinary air about him and that it was a special privilege to meet the legend in the flesh.
The other extraordinary special guest was Usain Bolt, the Met's Chief Entertainment Officer. Grant says, "I didn't get to say much to him, but from the little bit we spoke, he seems very a humble kind of guy. Obviously there was a lot of attention on him and eventually I told him, 'Listen, I'm the winning jockey here today!' and made him laugh, which was great."
Work Ethic
While most jockeys would be hitting the showers and planning their celebrations, Grant still had commitments for the rest of the card. It is a mark of professionalism and his growing maturity that barring his scratched ride in race 10, he kept going through to the last. "It's a long day, but I thought I had one of my best chances for the day in the last race. I'm still young and obviously I want to have winners, so that's what keeps me going. When you do have winners on the day, it boosts your confidence, so you want to keep going and have more winners."
Thanks
Winning the Met is an extraordinary achievement. Has he been inundated with well wishes? "It caused a huge reaction," he says gratefully. "but I've responded to everyone. It took me half a day, but I made sure I replied to all the messages. I just really want to thank everyone for the kind messages and phone calls – it really means a lot."
Grant says it's business as usual for the time being and he will be riding in Joburg this Saturday, but will take some well deserved time off in the next two weeks.
‹ Previous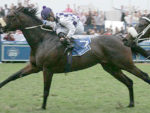 Eyes On The Big City