The Plattner family are well known for their stance on conservation and animal welfare and are no different when it comes to their racehorses. Many are retired to their farm in George, including 2013 J&B Met winner Martial Eagle.
"I have to say, Yogas did an amazing job with him," says Tina Plattner. The horse had all sorts of soundness issues and was basically ready to be retired. Yogas took his time, sent him to the beach every day for ages before bringing him back into work really slowly. His feet got better and the physio got his back sorted out – he really did an amazing job with that horse." She explains that after his fantastic Met victory, Martial Eagle was retired and used as a lead pony for a while, but his back issues continued to bother him. "We decided it would be better for him to be with his buddies in a paddock, so he is retired on the farm in George."
However, what many people don't know is that their 2003 Met winner, Angus, is still going strong at 20 years old and has had a long, happy and healthy second career as a riding horse for Mrs Plattner's daughter, Tina.
Special horse
Angus finished 3rd in the 2002 J&B Met and 2nd to Ipi Tombe in the 2002 Vodacom July, before his magnificent J&B Met win in 2003.  But Tina first fell in love with Angus at the Snaith yard.
"Right in the beginning of his baby career, he was with Justin before he went to Brett Crawford. I used to ride track work back in the day, although that was many, many moons ago," she laughs. "I rode him a lot as a 2 and 3yo and just fell in love with him. At some point he got too strong for me, and then obviously went on to become this amazing racehorse, but I always said if he never goes to stud and gets gelded, I would keep him. And that's how he ended up with me!" she beams.
"I mainly hacked him out and inbetween took him to a few jumping shows. He turned 20 last year and is still sound as a bell. We're still hacking out regularly and he still has a major buck on him," she warns.
Asked for her recollection of Angus' big win she remembers, "It's completely hard to believe. You scream them home and then it's like 'holy cow, we actually made it', and then pushing through the masses to get to the winner's enclosure. I remember he was standing there with about a million people all around him. I gave him the biggest hug and he just stood there like 'I've just won the Met, but I don't mind you crazy person hugging me.' It was one of the biggest nights of my life – I think I got home at 7am the next morning!"
Second career
Tina stables Angus and the rest of her string at Mistico outside Paarl. "It's a good 45 minute drive – when there's no traffic – but the facilities are really nice. The paddocks are big and my horses are all out in a big paddock together and really happy there. It's worth the drive."
Angus is still the boss of the paddock and knows he holds a very special place in Tina's heart. "He's got lots of personality and is very strict on what you are or are not allowed to do. He's not the type of horse you can go up to and cuddle the whole day like some horses. He's too much of a man for that, but he's very sweet – he won't kick or bite – but he will tell you whether he wants to do something or not. So when we go riding, I just say OK Angus, you can decide if we're cantering today and for how long. In the stable he can be really reserved and puts his bum to the door if he doesn't want to talk to you, but other days, he's got his head out and his ears pricked and loves attention. He also loves having his bum and the side of his tail tickled – Bernard Fayd'herbe taught him that."
Still a star
"People still recognise him at shows and even at the stables," says Tina. "He's just this amazing character and he still knows he's a superstar. When he's in his stable and I tell people that's Angus, they all say, 'Is that THE Angus? Oh wow, I didn't know he was still around,' and he'll prick his ears and puff himself up to say 'yes, and I deserve a carrot!'"
"Just about everyone I know seems to have had money on him in the Met – either that, or they make up the story in front of me!" she laughs. "I've even been approached by some of the overseas farriers when they come over to do seminars who say they remember seeing him on TV winning the Met. Sue Snaith came to see him not so long ago and couldn't believe he was still dappled and doing so well."
And it seems she might be adding another horse to her collection soon, the lovely Krambambuli, who finished 5 lengths off Oh Susanna in this year's Met. "I wasn't actually planning on having another one, but I've ridden him two or three times now and Justin said to me, 'You do know we're not going to find him a home – he's coming to you,' so I've gone to my barn manager and asked them to keep me another stable," she smiles.
‹ Previous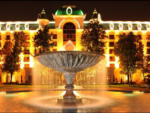 BSA And Emperors Palace Forge Ties