The Kenilworth eighth race quartet dividend, which closed a successful L'Ormarins Queen's Festival of Racing opening day, may have had Saftote punters scratching their heads.
With Anthony Andrews riding the R67 winner Ballad Of The Sea in an improved performance, and the supremely consistent tote favourite Streetfighting Man going missing, the payout of 'just' R21327-70 certainly appears on the low side.
The quartet pool on the race was R350 791, and we would have guesstimated a payout of at least double of what was declared.
Consider too that other horses missing from the top four, besides the favourite, were Manetheren (R10-10 a win), American Landing (R11-40 a win) and Hundreds (R11-70 a win).
Then add in the fact that 15 horses ran, and two of the swingers paid as much as R54-40 and R87-40, the Exacta paid R551-10 and the Trifecta R5988-70 – then the quartet just doesn't add up somehow.
Veteran punters are the best judges of payouts and this one looks low.
We will send the query to Saftote and let's see what they have to say.
Any comments from seasoned punters?
‹ Previous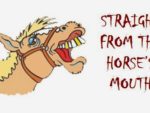 Some Fancied First Timers Today