The scene is mid-November 2017. It is the day of the 70th wedding anniversary of Queen Elizabeth and Prince Philip. They are having a celebratory dinner at Buckingham Palace.
Seasoned racing journalist Dave Mollett placed a tape-recorder under the table…this is how the exchanges went.
The Queen: "So, Philip, what a milestone. To think it was as long ago as 1947 that we walked up the aisle. But, as usual, I suppose you've forgotten to get me a present."
Prince Philip: "That's where you're wrong, my dear. Not only have I remembered, but it is to do with your favourite pastime – horse-racing."
The Queen: "Well, you've never really cared for racing – you feel it's your duty to go to Ascot but I've never seen you place a bet – so, tell me more, I'm intrigued."
Prince Philip: "I got chatting to our racing manager, John Warren, and asked him if he had any ideas of a gift for you and he said: "Yes, you could go to South Africa for arguably their most prestigious race – the Queen's Plate. Apparently it was first run in 1860 during Queen Vic's reign and – after all – we are great, great grandchildren of hers. I thought we could sail there on Queen Mary 2 – romantic, don't you think?"
The Queen: "Back to Africa – what memories. Remember we were together in Kenya in 1947 and then – five years later – I was in the same country when news came through that my father had died. I remember tossing and turning that night wondering if I was up to the task of being Queen."
Prince Philip: "You've answered that question all right – you have been a wonderful Queen and loved by so many around the world."
The Queen: "It's not like we have ignored South Africa – we were there to meet Nelson Mandela, a cheeky chappie who always called me "Elizabeth". I remember you very much enjoyed your trip to a Boer War battlefield. Mind you – the looks we got from some Afrikaners makes you think that hostility is in their blood forever."
Prince Philip: "Yes, our trips to South Africa have been pretty memorable, but this time I want you to completely relax and enjoy your racing which I know you love so much."
The Queen: "So, what exactly has John told you about the Queen's Plate – the name suggests royalty was involved from the outset."
Prince Philip: "Yes, so this is the 157th running and – according to John – they've tried to model the two-day meeting pretty much on Goodwood in July and the word is they've succeeded. You know Goodwood probably runs second to Ascot when it comes to being fashionably dressed and they make it pretty clear you better rock up looking smart. In fact, they have a strict dress code – you're expected to dress in blue and white. Not a problem, my dear, you can pull out that blue hat you wore on the second day of Ascot."

The Queen: "Really, Philip, what a suggestion. I'm sure the fashion writers in South Africa would spot it if I wore an old hat. I will, of course, get a new one."
Prince Philip: "John says this two-day racing festival has become an important date in their racing calendar due to the efforts of Johann and Gaynor Rupert. They're a famous family with a rich tradition – so much so that they're treated like royalty by their countrymen."
The Queen: "Just ensure that all I have to do is present the trophy – what a pity "Porchie" (former racing manager) isn't still with us. He'd know the ropes for our trip – he always was thoroughly reliable."
The Philip: "Don't get me on the subject of "Porchie" – you know it makes my blood boil. The newspapers here even said you had an affair with him – I know it's not true – if it had been I'd have sent you to the Tower myself. But I do remember you being so upset when he died in 2001 – if I remember right it was the same day as the Twin Towers fell in New York. A double tragedy on one day."
The Queen: "Porchie" (the 7th Earl of Carnarvon) did his absolute best for us from the outset – I won't have a word said against him. So, you say we can sail to South Africa on Queen Mary 2 – I thought it was now a luxury liner with hundreds of American and Japanese tourists."
Prince Philip: "That's right, it is. But I've used my connections and apparently there's a private suite on the top deck – only the Captain and some of the crew will know we're on board."
The Queen: "Tell me more about the race itself – it's sure to be run at Kenilworth, I know that's their number one course in Cape Town.
Prince Philip: "Well, John tells me it's named the L'Ormarins Queen's Plate – it's a Group One race, after all these years even I know that's for the very best horses. One of your trainers, Yorkshireman William Haggas, has strong ties with SA – if there wasn't such strict quarantine rules you could tell him to fly out one of your horses."

The Queen: "What a preposterous idea – most of my horses are Group Three horses, not Group One. But – as you know – I like a small wager so have they got a paper like our Racing Post which I couldn't do without."
Prince Philip: "In fact, John tells me they have a first-class racing publication – it's called the Sporting Post. Gives all the form with expert tips – you'll easily be able to work out the form."
The Queen: "Well, Philip, you have amazed me on this special date. The Queen's Plate here we come – another chapter in our visits to Africa."
Ed – a reminder to all seasoned and aspirant writers that the L'Ormarins Queen's Plate writers competition closes on 12 January 2018.
‹ Previous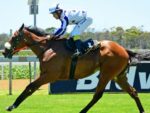 Gamble Landed