They say 'pace makes the race'.
Saturday's 157th running of the R1,5 million Gr1 L'Ormarins Queen's Plate is hardly likely to fall into the grip of the infamous 'Cape Crawl'.

A champion jockey who rode the first of his two winners in the famous mile over forty years ago suggests that the Kenilworth summer course will once again prove itself to be the fairest mile in the country.
"It's a Gr1 race. They are not going to hang around and play games. There are a few in the line-up that can go up and make the pace. Besides the fact that he is the proven top horse in the race, I believe that Legal Eagle's versatility and ability to go up with them or relax further back in running makes him a tough nut to crack tactically. And what we have seen previously is that he doesn't just stay on in front – he gives that killer kick in the final stages," says retired champion rider Garth Puller, who won the Queen's Plate in 1976 on Sledgehammer for Fred Rickaby and again in 1980 on the brilliant Over The Air for Peter Kannemeyer.
In his day, Garth says they didn't have the luxury of the summer course, with its longer run-in and he points out that this is an important factor in making the Kenilworth 1600m the fairest mile in the country.
"No quarter is given in a race of this nature but knowing that he has the long home straight to get out of trouble allows a jockey more time to get into a better position – or overcome any small errors out of the stalls. Naturally, it is still vital that you have the horse under you," he adds.
He recalls that both Sledgehammer and Over The Air were top class and said that ordinary horses don't tend to get lucky in the Queen's Plate.
"I won both my Queen's Plates coming from off the pace. It was the way I prefer to ride. And I missed a few along the way too. We only raced on the winter course with its short run-in those days and sometimes – not often, thankfully – we ran out of track when rattling late."
Garth wouldn't differentiate or rate either of his winners above the other.
"Both were very different – but both were top horses in every sense. Sledgehammer won the race twice – Muis Roberts rode him in 1975.  I was aboard at all 19 of Over The Air's wins. Every Gr1 win is special to the jockey, owner and trainer involved. Looking back now, it would not be fair to say one was more special than the next."
So what happens on Saturday?
"It's not rocket science. Legal Eagle is the title holder. Twice SA Horse Of The Year. Top man in Anton Marcus aboard. He is a worthy favourite. But he is a 6yo now and, while he may be better than them, he is not improving. And there are a few top stables with decent runners, who no doubt believe they can topple the champion. That's what makes racing great. We love to see the star win. But there can also be great romance when a new younger lesser vaunted challenger steps into the fray."
Garth says two young horses in the race are worth keeping an eye on.
"I would like to have seen African Night Sky with another run under the belt but he did gallop,  I believe. I see Justin (Snaith) also has It Is Written in the race. They may want to make it a hard run race – which sort of indicates they could have African Night Sky quite fit. He is probably more of a Met horse though. Then Gold Standard is another good 4yo that catches the eye. He ran a great race in the Met. He has enjoyed a quiet prep and Richard (Fourie) is riding at the top of his game. If the Eagle's feathers are to be ruffled, it could be by one of these two."
And Mike Azzie's Hat Puntano?
"He deserves his place but he has yet to show he can take on a horse like Legal Eagle. I see Mike is travelling down on Friday. I recall his Grandpa's great horse Elevation – Mike was still in primary school then. I won the 1974 Holiday Inns on Elevation and Sledgehammer ran third – we were giving 9,5 kgs to the Sledge. A month later in the Met, I was seeing the dollar signs on Elevation at the 300m marker but Sledgehammer came sailing past us – in receipt of only 3,5kgs this time – and beat us over 2 lengths. While Elevation loved Turffontein, I ascribed that turnaround to the fact that Fred Rickaby had settled Sledgehammer in Cape Town , while Elevation had travelled and arrived the day before. Road and air travel can take the edge off them. But I wish Mike and his patrons well."
Ed – As a footnote, could It be 'Written In The Stars'?
Jono Snaith has confirmed that the PE-based It Is Written, who like African Night Sky, is owned by Fred Crabbia, is running in the L'Ormarins Queen'S Plate as a gesture of acknowledgement and support to Eastern Cape racing. He is one of four runners from the powerful Snaith Racing Team.
‹ Previous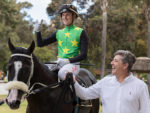 First Win On SA Soil