And the band just carried on playing ….while the ship continued to sink
A recent Australian blog described racing in SA as being on life support. It did not mention Kenilworth – but if it did it might have said that the disease in this region had metastasised, writes Richard H in the Sporting Post Mailbag.

I know more people that used to own racehorses or used to have a bet than those that currently do. 
I gather that most of the many loyal and regular contributors to Sporting Post are in the same position.
So, we all know the problem – but what is to be done about it?
One such person whose heart is really in the right place, is Mrs Gaynor Rupert and her family owned company, L'Ormarins.
The L'Ormarins Queen's Plate is a super day at the races.  It is just gorgeous to see so many folk in blue and white and when that was in short supply, there was plenty of flesh on display.  I believe that Mrs Rupert, with her quite substantial investment in horses, wants to see racing in SA revived.  The LQP is a great vehicle to achieve that end by getting newcomers to experience racing and the excitement of placing a bet and winning a few bob.

The Queen's Plate – it was just a party
Now, against that background, picture the scene at Kenilworth on LQP day.  I was in the entertainment area where you had to have a ticket of sorts to get anywhere.  Anyway, there were lots of people around that were quite clearly first timers as far as racing was concerned.  The main race is about to start: the field is loading: excitement should have been at fever pitch: and the jazz band kept on playing drowning out the on-course commentary and any TV (there were only a few anyway) that had the sound on.  Nobody had any idea of what was happening.

I witnessed a young lady ask the band leader to stop playing for the race.  She was told (very loosely translated) that this was a party and if she wanted to gamble she should go to a casino!
The whole point of the day was, if I am right about Mrs Rupert, in that single moment, lost.  The crowd carried on drinking and chatting and gave not a damn to the race or its result.  I'll wager a lot (not that I am a betting man) that not one of those first timers was at Kenilworth the following Saturday.
The Devil is in the detail

Mrs Rupert, I am really happy for you if you sold a whole lot more wine and exposed your Brand to a new audience but as far as promoting racing in Cape Town was concerned, well, I am not sure.  I am always intrigued by companies that organise golf days for their clients and happily spend thousands on the day.  Very often the golf day is a shambles because, in the main, its organisation was left to a person who does not play golf.  Yes, use your lovely PR lady to organise the food and drink but the Devil is in the detail and that should be left to a person with knowledge of racing.
The band should be silenced when the races are run so that the atmosphere and entire excitement of the day can be felt by all with a view to encouraging more people to follow and participate in the sport.

But, fear not, the day was a party and while the ship was sinking, passengers were entertained to some lovely jazz music.  The racing?  Who cares?  It was just a party on a sinking ship.
I fear that the Sun Met will follow the same route.  Pity.
‹ Previous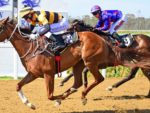 True Blue Bremner