Yet again Tellytrack succeeded in covering themselves in ignominy with the Met panel discussion on Tuesday evening, writes Ralph Fell in the Sporting Post Mailbag.

Flippant Joey Ramsden – G.H. Mumm's the word. He should feel utterly embarrassed, his main contribution being singing Anton Marcus's praises.
Gareth 'Fluskered' was totally out of his depth, as likeable a man as he appears to be.
Grant van Niekerk was generally inaudible, or is my hearing also giving in? Interestingly he didn't make Snowdance the best bet on the card.
Justin Vermaak talks sense, albeit with the passion of an undertaker, and Grant Knowles, as the host, lacked decisiveness, and was only successful in handing out platitudes. Overall the presentation was amateurish and cringeworthy, hardly befitting the hype leading up to race day.
Fortunately I had to keep an eye on paint that was drying in the kitchen.
‹ Previous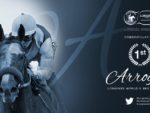 Arrogate Again