The South African Grooms Association (SAGA) has issued a press release stating their willingness to engage with COSATU and the PSA.
The press release, issued by SAGA Chairman, Chophelikaya Simoto on Tuesday, 23 January 2018 reads as follows:-
"We note the call by COSATU and the Public Servants Association for protests at the event if any Mayfair Speculators horses take part.
We, as the SA Grooms Association (SAGA) do understand the situation. We empathize with those who have lost pension fund investments, but we do not support mass action, which will result in the Grooms also becoming victims of the situation.
There are more than 3000 Grooms countrywide who are worried that action of this kind will make owners want to quit the Horseracing Industry, threatening our earnings and job security.
Worse yet, it stands to affect the horses that we love and care for.
We are appealing to all the parties concerned to please consider the needs of the Grooms and the horses. We ask COSATU and the PSA to reconsider and investigate other options.
SAGA would appreciate an opportunity to meet with COSATU and the PSA to discuss the impact mass action would have on the industry's Grooms."
‹ Previous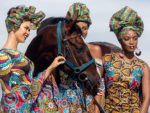 All The Small Things