In a scene reminiscent of the film Racing Stripes – but a lot less amusing – apprentice Luke Ferraris suffered a fractured arm after his mount ducked from a stray zebra at Ashburton on Friday, 12 January 2018.
Ashburton training centre is situated in the middle of a conservancy, with herds of wildlife roaming the property.  While idyllic in some respects, there is no fence preventing the wild animals from straying onto the tracks and into the path of the morning strings.  Trainers have repeatedly voiced concerns that the herds of resident wildlife pose a safety hazard and have warned that without a fence to keep animals off the track, it was only a matter of time before an accident occurred.
Only In Africa
Luke was riding a horse for trainer Paul Gadsby, who reports that it was a misty morning, affecting visibility.  The horse was travelling at a strong gallop when it spotted a zebra near the track and spooked violently, unseating his rider.
Second year apprentice Ferraris, who celebrated his racecourse debut with his family (pictured above) on 3 December 2017, had three carded rides at Scottsville on Sunday, 14 January 2018 but is likely to be on the bench for the next six weeks after x-rays revealed a fractured left radius.
We wish Luke a speedy recovery and look forward to having him back in the saddle at the end of February.
In the meantime, perhaps Gold Circle could see about putting up a fence.
‹ Previous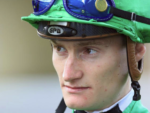 Welcome back, Daniel