With the severe drought in the Western Cape, trainer Justin Snaith and his team have had to come up with a "total new approach" to the summer season and whatever they are doing is certainly working.
Snaith is at the top of the national trainers' log, more than R2 million clear of second-placed Sean Tarry.
"I was disappointed with our results last season in the Cape and we found at the end of the season the horses were tired. Before this season we changed our approach. We've been fine-tuning our training, learning and improving on our mistakes.
"Our horses are doing very little at home before their races. Now we'll see. If we hit Met Day with good results, we'll know we've found a new way to approach the summer season. I'm looking forward to the Met."
One of the reasons for his good results is the pristine condition of the Kenilworth track. "Honest," he said, "I don't worry about my horses racing. If possible the horses are sounder afterwards than before."
The Queen's Plate is a race meeting at which Snaith has enjoyed immense success in the past and it was no different at the two-day festival last weekend. He had 52 runners across both days and saddled six winners, two last Friday and four on Saturday. He also had seven seconds, four thirds and two fourths as well as a couple of unplaced runners worth watching on Met Day.
"The placed runs are just as important as the wins," he said.
"And every one of them is 100% clear after their races. We had a little bit of rain early on in the week and the track was beautiful."
He had four runners in the Queen's Plate, with 50-1 outsider Copper Force doing best in second and best-fancied African Night Sky not really making an impact and finishing seventh, 2.90 lengths behind Legal Eagle.
"I said before the race that Copper Force had a hiccup and had to go on heavy medication. That flattened him for the Green Point Stakes. His form is deadly otherwise.
"On Saturday he came from last from a bad draw, found trouble in the straight and fired home. If he gets a clear run perhaps he wins the race (although that Legal Eagle is a hard horse to get past – he was 100% beat but wouldn't give up).
"Copper Force is a nifty individual.
"And he's not the only horse of mine who ran an impossible race on the day. Watch Krambambuli in the replay of the Peninsula Handicap. He had 60kg on his back and came from 20 lengths behind to finish fifth. Incredible!"
Snaith was happy with African Night Sky's effort. "He was not beaten far and his best distance is 2000m. It was only his second run this season because we'd planned to run him in the Jet Master Stakes, but that race was taken away. So he was always going to be one run short.
"The race was run very quick and he never got into it. He wasn't sharp enough. But that will bring him on for the Met. You'll see. He'll be a different horse.
"I'm not saying he's going to win, but he'll be in the firing line."
One of Snaith's wins came in the Gr1 Cartier Paddock Stakes with Oh Susannah, who will line up in the Sun Met.
"I have a strong string. As many horses as I brought to the Queen's Plate Festival, there were another 20 at home. But it's been hard work – nothing comes easy, so there have been many sleepless nights and long hours at the stables for (brother and assistant) Jonathan, the owners, managers and me … and it all goes on to Met Day.
"Bring it on. Met Day will tell whether we've done things right or wrong."
‹ Previous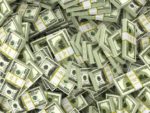 Dreaming Of Dollars?