It's not fake news. Piere Strydom will ride Sun Met second favourite Last Winter as Anthony Delpech's contractual obligations force him to jump ship to Mike de Kock's late supplementary entry, Cascapedia.
These are the great days of speculation – plenty of fake news – and uncertainty over who will and who won't in respect of the R5 million Gr1 Sun Met class of 2018.
And it will reach fever pitch in advance of the final field announcement on Monday.
The value in the ante-post market for the Cape flagship will only be available to the astute and lucky for three more days as we head towards the final declaration gate at 11h00 on Monday morning.
This week L'Ormarin's Queen's Plate winner Legal Eagle drifted to as much as 6-1 on word that 'they' said he was flat after Saturday's exertions and giving the Met a miss.
In horseracing circles 'they' have a helluva lot to say – especially in times of uncertainty when everybody is looking for something to hold on to and have a dip at a nice price.
His new owner Braam van Huyssteen left it in the champion trainer's hands earlier this week:
"On Saturday, we just enjoyed the moment. We haven't discussed any plans yet.  Saturday was a real highlight and as far as I'm concerned, Legal Eagle can come and retire on my farm tomorrow, but we'll leave it to Sean.  If Sean feels we should take a chance in the Met, we'll do that."
Veteran trainer Sean Tarry has been round this block a few times – 'same story, different year' he chirps after hearing what 'they' had to say. He has confirmed that his champion is fine and on track.
When taxed on Tabnews about Legal Eagle's 'limitations' at 2000m, Tarry said: "I've got my opinion, other people have theirs and we're never going to find common ground. But I'd like to have a few more horses who are questionable over the distance with a record like his!"
The fact that Anton Marcus is staying loyal to Legal Eagle is a further plus and let's face it – if we run the race ten times, the Eagle wins it five times. Surely? That makes his current price very attractive.
Is Premier Trophy runner-up Last Winter overpriced?  The news that Delpech will take up the ride on the Gr3 London News Stakes winner Cascapedia is no surprise at all given his contractual commitments to the owners. It would probably not be fair to ask Delpech what route he would have taken if preference overrode contract.
For Piere Strydom, the late call-up to ride the progressive 4yo Last Winter presents a golden opportunity to notch a second Met winner. He was aboard Angus for Sabine Plattner and Brett Crawford in 2003 and has gone close a few times.
He is the best value for money rider at his age in the country and one of our greats of all time, with milestones of 5000 career winners well behind him.
Strydom won his sixth SA Championship as recent as the 2012/2013 season, his first since the 2000/2001 season
He has had a few frustrating Met days. Like in 2015 when he landed up riding three feature second places, as well as a disappointing sixth on Sansui Summer Cup champion, Louis The King in the Met. The pace was the curved ball there. It happens in the fairest Cape!
Dean Kannemeyer, who is yet to win the Met for his own account since taking the reins from his Dad Peter in 1999, said that he accepted Delpech's move.
"Look contracts have to be honoured. Anthony has gotten to know Last Winter and in a race like the Met we need things to go our way. But Piere Strydom is a man who knows his way around Kenilworth and I couldn't have hoped for a better sub at this late stage," he said.
‹ Previous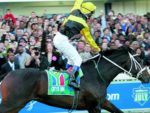 Zabeel Legacy Reigns On