Leading Bloodstock Consultant John Freeman writes in his latest eNews that as much as he thought the arrival of Usain Bolt on course on Sun Met day was a brilliant idea, it was very badly executed.
Right in the middle of the presentation of the trophies for Gr1 Klawervlei Majorca Stakes all hell broke loose on the winners rostrum.
This helicopter came overhead with dust and dead grass flying in every direction. Ladies clutching at their dresses, hair and hats. No-one could hear what was being said on the podium so they stopped. Before the owners were presented with their trophies, all of the happy connections of the winning filly were unceremoniously asked to leave the stage to make way for Mr Bolt. The trophies were not presented and we got no pics taken. What!!!

The Klawervlei banners on the podium were being removed even before the helicopter landed. The wind from the rotor blades almost toppled that background banner wall onto the podium but for the effort of four chaps clinging to it.
So a publicity stunt by one sponsor is more important than the people who just won a Gr1 race! I also felt badly for the sponsor of the Majorca Stakes, Klawervlei (I doubt they will complain so I will do it for them).
I think they deserve a refund.
How can one sponsor steal the limelight from another an deprive those that are entitled to celebrate their moment of joy?
How does the Longines CNN Winning Post introduction on TV go, something like; "countless hours training, hundreds of days on the track, years of sacrifice, centuries of tradition, millions invested, for a race that lasts minutes, and a chance at glory" to which one should add "for a few seconds on a podium to celebrate" and then along came a Bolt to steal your thunder.
‹ Previous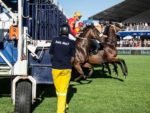 Met – Where's The Fizz Gone?