I attended what must be my 35th Met at Kenilworth on Saturday and left disappointed, writes lifetime punter and a self-admitted 'victim for the game', Patrick Nassif, in the Sporting Post Mailbag.

The Met has always been the one day the punter, the social elite and fashion set can join hands to have a great day out – and savour the very best that horseracing has to offer.
But on Saturday it just didn't work.
It was downright boring. There was no atmosphere. The tents were blocking the parade ring. It lacked spark.
And I'm still wondering exactly what role Mr Usain Bolt played in the show?
He didn't arrive before the first and mingle with us.
He landed in his snazzy chopper 45 minutes before the big race, sauntered up to the front of the grandstand looking decidedly bored – and then didn't even have a great wow answer for some superficial question about his career, pitched to him by a glamorous busty lady in a loud outfit on the stage.

No question, Bolt is an icon on the sports field. But in a community where 90% of the people don't even drive a car, did he have to arrive in the whirlybird with the attitude?
Maybe this new generation of materialista's aspire to the Bolt image – natty clothes, fancy watches and designer after shave and suits.
I go for the racing – for the horses – to have a jol – and now and again to hopefully back a winner.
We used to be so staunch – only church on Sundays outpointed our passion for racing on a Saturday.

The fizz has gone out of the champers.
Mumm may be the word – but they are going to have to offer me something very special to get me back in a hurry.
‹ Previous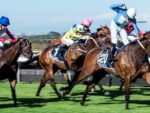 True Blue Susanna Snaith!