Varsfontein recently bid farewell to a very special mare in champion, Marie Galante.
It was especially sad for Susan and John Kalmanson, and Carl De Vos,  who hold very fond memories of this feisty little mare.
Marie would have turned 30 this year, as she was born in 1988 – the year that Carl joined Varsfontein. It was a pivotal time for the farm. A new generation was getting involved as Susan and John started taking the reins at Varsfontein.
Marie Galante turned out to be the kick-start this new generation needed, bringing everyone together and rousing a new excitement around the farm's breeding operation.
By Varsfontein stallion, Mexico II, and out of foundation mare, Indira, Marie was born when the combined age of her parents was 47 years.
She raced for Varsfontein in Susan's colours for 3 seasons and ended up with a race record of 8 wins and 6 places from 16 starts – all but 2 of which were stakes races. She achieved the Gr2 Poinsettia Stakes and Gr1 SA Fillies Sprint double twice – in 1992 and 1993.  She also ran courageous places against the colts in the Gr1 Natal Flying Championship, G1 Gilbeys and Gr2 Durban Merchants.
Geoff Woodruff was just starting out as a young trainer at the time in Cape Town and Marie was the second horse Varsfontein sent to him to train.She was not initially part of Geoff's Durban string that winter in 1991, and she stayed in the Cape in the care of Penny Bester.
When Geoff lost Rip Curl in his Durban string, he called Penny to ask which replacement horse they should move up to Durban. Penny was confident in her reply, "Turbo Takkies" Marie was the one who had to go.
In Durban, she won her first two races with ease, by 3.5 and 1.5 lengths respectively. Back in the Cape to start her 3yo career, Marie started to show what she was really capable of at the highest level with her win in the Gr2 Southern Cross. Indeed she won six of her first seven races including the first of her Poinsettia/Fillies Sprint double.
She was a courageous race filly and gave the new Varsfontein team enormous fun. Carl explains just how much confidence everyone had in her – "We would hop on a plane to Duban for the day and know we were going to collect the trophy. She was that good!"
Marie formed a rivalry with top sprinter Taban.
In December 1992 the South Easter Sprint was moved from Kenilworth to Durbanville due to a flu outbreak. It was probably the biggest crowd Durbanville had ever seen as scores of people, including all the personnel at Varsfontein, came to witness the "match race" between these two star sprinters. In a surprise twist of fate Empress Club sneaked through on the inside to win while Taban and Marie Galante were so focussed on beating each other. It was a memorable moment in racing history.
At the end of her 4yo season Marie retired to stud and produced 8 foals, of which 6 were winners. In 2005 she produced her last foal and thereafter spent her old age gracing the Varsfontein pastures.
In her lifetime, Marie has seen the growth of Varsfontein – more paddocks, new stables, avenues of trees, and a growth in the broodmare band from 15 to the current 100.   All of this was kickstarted by this very special filly.
Susan Kalmanson closed by saying: "It will be strange not having her around after all these years but at least the memories are still very much alive – and Varsfontein itself is her memorial."
‹ Previous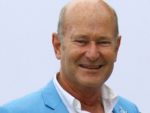 Freeman's Frankel Tops