Vaughan Marshall sent a chilling ripple of fear through the Milnerton training centre last Saturday morning when he scratched all his six runners from that day's Kenilworth card because of a respiratory virus.
For obvious reasons it was felt most by his immediate neighbours Greg Ennion and Candice Bass-Robinson ("I don't need that going into Met day") but Marshall, speaking at the Convention Centre's cauldron of dreams last Saturday evening, played it down.
He said: "It's just a few horses that are affected and I did it as a precaution. We are taking no chances and we have also nebulised them all."
He confirmed that Alec and Gillian's Investec Derby favourite Tap O'Noth is fine and on course for Saturday. But for Andre Nel and Platter Racing's Rondeberg yard 100 kilometres up the coast the nightmare continues.
Abnormal blood counts forced them to scratch all Saturday's four runners and, with the problem having continued on and off for many weeks, Nel has now  brought in a virologist and is toying with the idea of shutting up shop for a short period.
In any case stable jockey Donovan Dillon will be out of action for another three weeks because of a broken bone in his right hand that has side-lined him for the past fortnight.
He said: "It happened coming out of the starting gate shortly before the Queen's Plate. I didn't think much of it to begin with but it then began to get more and more sore. It is now getting better and I am due to see the doctor again on 12 February."
‹ Previous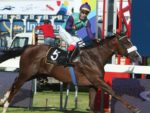 Snaith's Met Five