First timer All Aboard was scratched prior to the first at Kenilworth on Tuesday due to a 'passport discrepancy'

Tabnews report that Chief Stipe Ernie Rodrigues said that the microchip read correctly, but that the markings noted in the passport were clearly very different to the actual physical appearance of the horse.
The problem was picked up by the horse identifier, and the Stipes were taking no chances and scratched the Mambo in Seattle colt. The matter will now be fully investigated.
‹ Previous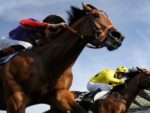 Filly 'Went Down Short'