Ashley Fortune, wife of former champion jockey Andrew Fortune, took her written trainer's licence exam on Wednesday and plans to start operating a stable in Gauteng soon.
Tabnews reports that Fortune, formerly Ashley Panter, was assistant trainer to highly successful Noelene Peech in Zimbabwe before performing the same function with Joey Ramsden for 18 months after moving to this country in 2008.
"This is something I have always wanted to do and with Andrew not riding now, I have the time. I need to stay involved in racing, and a lot of people have said Andrew should become a trainer, so I will welcome his input," she commented.
The irrepressible Fortune himself insists with a laugh he "has had nothing to do with this decision".
The chances of the former champion making a comeback are less positive. After a partial knee replacement a while back he said: "It still shakes after a couple of rides. I'm 50 now, I've had five operations on my right knee, and I have arthritis so I don't know what the future holds in terms of riding competitively again."
Whatever his future may hold it is heartening to know the Fortune name will still have an active presence in South African racing.
‹ Previous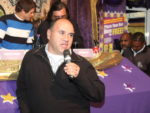 Peter – 'She Could Place'