German rider Martin Seidl arrived in South Africa on Sunday, 12 November 2017 aged 23 years old. On Wednesday, 7 February 2018, he returned to Germany a year older and with two South African wins, Gr1 places in the Cape Fillies Guineas and Klawervlei Majorca Stakes and places at Gr2, Gr3 and Listed level to his credit. We asked him for his opinions and insights on his stay.
General impressions
He speaks very positively about the quality of the horses he's worked during his visit. "I've ridden a few nice and good horses and from what I've seen, your Gr1 and Gr2 horses are 100% good enough to have success internationally."
Martin secured his first two riding engagements on 18 November 2017 from Paddy Kruyer and Candice Bass-Robinson who continued to support him during his stay, but Joey Ramsden's Goodhope Racing proved his biggest mainstay, with Eric Sands and Justin Snaith also giving him regular support.
"The racing here is very good, it's very tough and there are a lot of good jockeys. I've only seen racing in Cape Town, but from what I've seen is that when jockeys and even trainers from Joburg or Durban come to Cape Town, it's hard for them to win a race here. There are a lot of jockeys that ride winners in Durban and Joburg every week, but when they come to Cape Town, they can go 2 or 3 meetings without riding a winner. The horses and the racing in Cape Town are very strong."
Despite being here on a working holiday, Martin was at gallops nearly every day of the week and his work ethic and thorough likability seldom found him without an engagement come race day.
Martin rode his first winner in South Africa, Silver Coin, for Joey Ramsden at Durbanville on New Year's day 2018 and then delivered a winner for Eric Sands on Kenna at his penultimate meeting at Kenilworth on 20 January.
Introduction
"First of all, I have to say, if it wasn't for Glen Hatt, I would never have been able to get to these trainers. When I arrived, the first person who helped organise things for me was Dr Jacobs, and then Glen was the person who introduced me to all the trainers and particularly the ones I ended up riding for the most. Joey Ramsden gave me the most chances. I worked for him in the mornings most of the time and he gave it back to me with some nice rides and I was Gr1 placed twice and placed in Gr2 and Gr3 for him, which was good."
Asked for his opinion on our tracks, he says, "When I first went to Durbanville, a few jockeys said it was not like Kenilworth and that being a smaller track, it was not so easy. I understand that track has been refurbished, so obviously can't comment on what it was like before, but how it rides now is perfect." And his praise also extended to the general facilities, including the jockey room, etc.
Martin was similarly complimentary about Kenilworth, labelling it 'top class'. "I can't talk like Frankie Dettori or Lester Piggott – no chance!" he jokes – "But I've been to France, Italy, Germany, Belgium and England, and what I can say is that from all the tracks I've been to, 100% Kenilworth is one of the best I've seen. Not only from the riding point of view, but the stands, racetrack – everything. It's first, first class."
New friendships
Martin was equally popular among the local riding ranks, not only slotting in easily in the jockey room, but also forging firm friendships off the track. "The guys were top. Bernard Fayd'herbe, Donovan Dillon, MJ Byleveld, Anthony Andrews and Richard Fourie – the best fisherman in South Africa – these guys showed me around and we had a lot of fun."
"I also saw the other side of South Africa. MJ is more Afrikaans, which I didn't know before, so when I met him and a few people from his family, I got to see the farming side as well, which was also very interesting. I met a very nice group of friends and they have already been texting me to see if it's cold and so on. We will stay in contact and in a year, maybe two, a group of them might come to Germany and visit. That would be fun."
Model visitor
One of the more unconventional things Martin got to do during his stay was a modelling shoot for Roxy Joubert's new Jock range. "When I first met Bernard and Roxy, they were still only talking about it. I had a look at their stuff and gave input on the breeches and so on and then Roxy asked if I'd like to help with the pictures. When they put the pictures on the website and Facebook, within two days I had 35 people asking me to bring them stuff. I can help open the market in Europe, so we will stay in contact and I will wear the stuff I've got from Roxy so that people can see it in Germany. I think in the next two to three months, she'll be getting some nice orders from over here," he says with satisfaction. "It's cool. It's little things, but all these connections show you how small the world is."
New perspective
Despite working his socks off, Martin says the change of scenery has done him the world of good, leaving him refreshed, re-energised and with a new resolve on life in general. "Everywhere in the world you have people talking about something that happens today for the next two weeks. The people I met in South Africa are more relaxed. If they have to do something, they do it straightaway and get it done. When they finish work, they relax and enjoy their life. Since I moved to a big stable in Germany four years ago, it's always been pressure pressure pressure. Whether you're riding in a small race, or a big race, there's always pressure. Normal people can finish work and then go home. Jockeys don't have that. We're always traveling, working, riding, always watching our weight and when you do go home, the phone rings and it's the trainer or the owner wanting to talk. You never get a chance to relax. Here, I've had a chance to relax and I know who I am again."
"I think I've been focussing more on other people than on myself, and I think I will change that a bit now. This is the happiest I've been in the last four years."
Immediate plans
Martin is currently enjoying a bit of down time with his family in their village outside Munich. "I will stay here for two weeks and on 21 February I will go back to Cologne." He will be race riding again from 27 February. "It's still quiet at this time of the season and we're only racing once a week, because it's -6, -7 degrees," he explains. "At the end of March, our turf season starts again and then it's back to 3 or 4 meetings a week."
Martin's South African friends and fans can follow him either via racebets.com or galopponline.de.
Gratitude
Martin expressed his enormous gratitude to everyone who helped and hosted him during his stay, starting with Dr Andreas Jacobs and the Maine Chance Team, but to Glen Hatt and his family in particular. "I stayed there the whole time and Glen showed me around. He was one of the best jockeys here, and he helped me a lot. To Mr Ramsden, who gave me most of my rides, but to all the trainers, a big thank you." He reserved special praise for Eric Sands, who he rates as one of the best in Cape Town. "What he does with the horses he has – they don't write it in the papers, but he's a very, very good trainer and a good horseman. He helped me a lot and to ride a winner for him was very special."
Lastly, "To all the other guys – Bernard, Donovan, MJ – if I was just here on holiday and didn't have them as friends, there are a lot of things I wouldn't have had a chance to do."
"Everything I've seen and done in South Africa and especially in Cape Town has been first class. When I had to go home, if the plane didn't come, I would not have been sad. I wasn't in South African racing for very long, but I hope they don't forget me!"
‹ Previous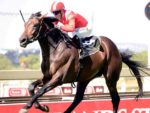 De Kock Arrives With Kitchen Sink