If imitation is the sincerest form of flattery for normal people, having a horse named after you is what does it for racing folk.
On 3 February 2018, a horse called Mr. Bruss (Saamid – Captain's Lover) won on debut at Malakpet Racecourse in Hyderabad, India for trainer Arjun Anne and jockey K Sai Kiran. Mr. Bruss is named after our very own Neil Bruss, who told us, "Ajay and his brother, who is a trainer in India named the horse after me. He is always phoning me for advice so they named him Mr Bruss and won his first start today in India. A big surprise for me."
Successful season
Neil is currently plying his trade in Saudi Arabia, contracted to Abdulelah Abdul Aziz Almousa at the King Abdulaziz Field Equestrian Club in Riyadh. The main racing season takes place during the winter months (from 1 October through to the end of March) and Neil is coming to the close of his second season in Saudi off a terrific run of form.
With Saudi racing being held on Fridays and Saturdays, Neil enjoyed a fantastic weekend double with the Argentinian-bred Brandyrun (Incurable Optimist – Run Rund) who won the 1600m Equestrian Club Car by 7 ½ lengths on Friday, 26 January 2018.
He followed up with another Argentinian-bred, Fantastic Four (Forestry – Fanny Doll), winning the 1400m G3 The Equestrian Club Board Of Directors Cup by 3 ½ lengths the following day.
Perhaps more exciting is his Saudi-bred charge, Tiaemah (Premium Tap – Bratislava). The 7yo mare has won three on the trot, including the 1800m Lawyer's Cup on 16 December, annihilating the field by 11 lengths and the following up with a 7 ¾ win in the 1800m G2 Prince Bader bin Abdualaziz Cup on 19 January. "It was a very good race," enthuses Neil. "She challenged the King's best filly who has won 11 of her last 13 starts. The field cut to five runners and she beat them by 7 lengths."
G1 King's Cup
Saturday, 10 February 2018 sees the running of the G1 King's Cup, Saudi's most prestigious race. Neil saddles last season's stable star, God's Speed, who finished 2nd in the G2 Crown Prince Cup at the end of December will be partnered by stable jockey Eddie Castro. Neil has two runners in the race and also sends out stable companion, Swiftsure, who will be ridden by another hometown talent, Bernard Fayd'herbe who flew in yesterday to take the ride.
The King's Cup, to be run as the 10th race on today's card, is scheduled for roughly 7pm Saudi time (approximately 6pm in South Africa), although Neil warns that they wait for the King to arrive, so the actual start time might vary.
Dubai World Cup Carnival
Neil thinks enough of his string for a tilt at the Dubai World Cup Carnival and the stable has chartered a plane to Dubai, leaving next Tuesday with all of Tiaemah, Fantastic Four and God's Speed.
"Tiaemah will contest the Balanchine Fillies Group 2 over 1800m on Turf this coming Saturday 17th. She's won her last three in a row and she's flying right now. I think she'd give a really good account of herself," says Neil. "Fantastic Four will have a crack in the Gr2 Firebreak Stakes on dirt over 1600m the same day. God's Speed will probably run on 10th March all being well." He also reports that Bernard worked Tiaemah and Fantastic Four this morning and is very happy with the feel they gave him.
Good Track Record
Neil is no stranger to the Dubai World Cup stage, having raided from Saudi in 2009 with an Argentinian-bred horse named Muller and the South African-bred Paris Perfect and who he saddled to a 1-2 finish in the 2009 King's Cup, Saudi's most prestigious race. It's a wonderful story that Neil enjoys re-telling.
A son of Muhtafal out of the Honor Grades mare, Candle Princess, Paris Perfect won 10 of his 17 starts in South Africa before being plucked from the Des McLachlan yard in PE by Neil's brother Robin, and sold to Prince Faisal bin Khaled bin Abdulaziz. He won his first start in Saudi, before finishing 4th in a prep race for the 2009 G1 King's Cup, where he had to come around the field to finish second to his stable companion, Muller.
Muller, who was a Peruvian champion, having won a string of races including the Peruvian Triple Crown, had enjoyed success in Saudi, finishing second in the Crown Prince Cup, but was a lead pony when Neil took over the string. "I was his fourth trainer," he recalls. "I put him back in training and he won first time out and then won the King's Cup." Neil then took the pair to the 2009 Dubai World Cup, where they finished 3rd and 4th to Well Armed.
"I guess the saying 'If you're not in, you can't win,' is an appropriate term to use in the next 6 weeks or so, but we'll be giving it a good go!" he grins.
‹ Previous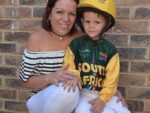 Ash Fortune To Train