Piere Strydom will ride Dean Kannemeyer's unbeaten Gr3 Flamboyant Stakes winner Hashtagyolo  in the R500 000 Wilgerbosdrift Gr2 Gauteng Guineas to be run at Turffontein on 3 March.
The smart daughter of Dynasty was ridden by Anthony Delpech in all of her three wins from three starts in KZN, but Kannemeyer has confirmed to the Sporting Post that due to contractual commitments, he was obliged to find a new rider.
"I was extremely pleased to secure the services of Piere Strydom to ride this very promising filly in Anthony's absence. She has been in Johannesburg a few weeks and has settled well. She did some pace work over 800m last week. She will be given a gallop at Turffontein over 1400m about ten days before the big race. All going well, she will be aimed at the Triple Tiara. She is a filly who is looking for ground," he added.
Mike de Kock has 5 of the 23 entrants for the first leg of the SA Triple Tiara, including Canford Cliffs daughter Fish River, who won the Gr3 Three Troikas Stakes in such fine style at her last start.
The R4 million Wilgerbosdrift SA Triple Tiara is the richest series of races for fillies in Africa.
Snowdance, who won the alternate first leg, the R1 million Cape Fillies Guineas at Kenilworth in December, is not amongst the entries for the first leg on3 March.
The second leg will be the R1 million Wilgerbosdrift Gr1 SA Fillies Classic  to be run over 1800m at Turffontein on Saturday 7 April. The third leg is the R1 million Wilgerbosdrift Gr2 SA Oaks  to be run over 2450m on Saturday 5 May.
A R1 million bonus is payable to the owner of the winner of all three legs.
The Wilgerbosdrift Gr2 Gauteng Fillies Guineas entries:
21
Hashtagyolo
(3F)
60
99
A
Dean Kannemeyer
16
Folk Dance
(3F)
60
97
A
Paul Peter
10
Fish River (AUS)
(3F)
60
96
A
Mike de Kock
2
Silver Thursday
(3F)
60
95
A
Mike de Kock
11
Roy's Riviera (AUS)
(3F)
60
92
A
Frank Robinson
8
Takingthepeace
(3F)
60
92
A
Mike de Kock
19
Cashel Palace
(3F)
60
90
A
Alec Laird
20
Fiorella
(3F)
60
90
A
Duncan Howells
18
Dame Kelly
(3F)
60
88
A
Ormond Ferraris
14
Tammany Hall
(3F)
60
88
A
Paul Peter
9
Aurelia Cotta
(3F)
60
87
A
Sean Tarry
3
Rockin Russian
(3F)
60
85
AT
Sean Tarry
6
#Radiant Splendour (AUS)
(3F)
60
83
A
Gary Alexander
5
Green Top
(3F)
60
82
A
Alec Laird
15
Secret Potion
(3F)
60
81
A
Geoff Woodruff
12
Awfaa
(3F)
60
80
A
Mike de Kock
13
Jet Start
(3F)
60
79
A
Ormond Ferraris
1
Pale Lilac
(3F)
60
79
A
Alec Laird
22
#Dressed To Impress
(3F)
60
77
A
Geoff Woodruff
23
Schippers
(3F)
60
76
A
Geoff Woodruff
17
Redberry Wood
(3F)
60
74
A
Geoff Woodruff
7
#Pearl Of Bahrain
(3F)
60
73
A
Mike de Kock
4
Pretty Ballerina
(3F)
60
71
A
Ormond Ferraris
(23)
‹ Previous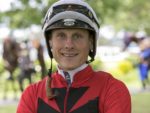 Auf wiedersehen, Martin