Mike de Kock's Gr1 winning 2yo of last term Mustaaqeem drew the outside barrier gate of the 23 entries received on Monday for the R1 million Gr2 Gauteng Guineas to be run at Turffontein on Saturday 3 March.
De Kock has a powerhouse 8 entries in the first leg of the SA Triple Crown, which also includes KZN challengers Monks Hood and the Frank Robinson-trained Roy Had Enough.
An interesting potential runner is Paul Peter star Majestic Mambo, who is unbeaten in three starts and steps up after winning the winning the Listed Sea Cottage Stakes at his last start.
The R7-million SA Triple Crown for 3-year-olds is the richest series of races in Africa.
The Triple Crown comprises the R1-million Gr1 Cape Guineas. Tap O'Noth, who won the Guineas is not amongst the entries listed.
The Gauteng Guineas is the alternate first leg, with the R2-million Gr1 SA Classic run over 1800m on Saturday 7 April the second leg.
The third leg is the R2-million Gr1 SA Derby run over 2450m at Turffontein on Saturday 5 May 2018.
A bonus of R2 million will be paid to the owner of the horse that wins all three legs of the Triple Crown.
Supplementary entries for the Gr2 Gauteng Guineas are due by 11h00 on 19 February, while declarations close at 11h00 on 22 February.
The entries:
23
Mustaaqeem (AUS)
(3C)
60
109
A
Mike de Kock
7
Monks Hood
(3G)
60
104
A
Alistair Gordon
18
Surcharge
(3C)
60
104
A
Stuart Pettigrew
6
Greek Fire
(3C)
60
100
A
M G Azzie/A A Azzie
12
Roy Had Enough (AUS)
(3C)
60
100
A
Frank Robinson
8
Ideal Secret
(3C)
60
98
A
M G Azzie/A A Azzie
11
Majestic Mambo
(3C)
60
98
A
Paul Peter
22
Wonderwall
(3C)
60
97
AT
Sean Tarry
15
Seerite
(3G)
60
96
A
Robbie Sage
9
Noble Secret
(3G)
60
95
A
Mike de Kock
19
Sir David Baird
(3G)
60
95
A
Mike de Kock
3
Puget Sound
(3G)
60
92
A
Mike de Kock
1
Royal Crusade
(3C)
60
92
A
Mike de Kock
10
Vacquero
(3C)
60
92
A
Robbie Sage
20
Big Bear
(3C)
60
91
AT
Sean Tarry
17
Yakeen (AUS)
(3C)
60
91
A
Mike de Kock
5
Cash Time
(3G)
60
90
A
Gary Alexander
14
Alshibaa (AUS)
(3G)
60
89
A
Mike de Kock
13
Pietro Mascagni
(3C)
60
87
A
Mike de Kock
4
Silver God
(3C)
60
87
AT
Sean Tarry
2
State Trooper
(3G)
60
81
A
Roy Magner
16
Alssakhra
(3C)
60
80
A
Paul Peter
21
Loyal Lieutenant
(3G)
60
79
A
Robbie Sage
(23)
‹ Previous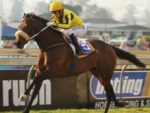 Newsflash: Last Winter