With the Sun Met fading into the distance of our rearview mirrors, racing shifted to Durbanville for Saturday, 3 February 2018 and to add a bit of fun and spice (as well as to give folks a chance to get some shopping and a few chores done in the morning), the day was scheduled as a twilight meeting.
No matter which approach road one takes, the drive to Durbanville is a particularly scenic one, and having either travelled through the Durbanville wine route, over the winding Vissershok road or alternatively along Adderley Road, the short car trip is just long enough for the gentle rolling countryside to work its magic and almost without fail, one seems to roll into the gates in a positive frame of mind.
The weather was bright and sunny, but luckily not too hot and by the 3pm start, the worst of the day's heat was more or less gone, so all in all, it promised to be a great day out.
Crowds
I get rather excited to have to park away from the main gates as a full car park means spectators on course and last Saturday I had to park down near the manager's cottage – what a thrill!
Approaching from that end of the course also meant that I got to see the jumping castle – and instead of the standard construct, this weekend's one was in the form of racing lanes with toy horses for the children to race down – which was a nice touch in keeping with the day. There were also glitter tattoos as well as sand art on offer to keep the little ones occupied, plus a table of toys for sale. However, there is seldom much to beat a good old fashioned ball and a group of boys put the lawn space to good use.
Luella Robinson had worked hard to round up support and there were so many lovely people that one seldom encounters at the races, but really should. Folks such as physio extraordinaire Shannon Petiteaud, representatives from the local tack shops, Western Shoppe and Tack Shack in particular – all of whom found it interesting, but wanted to know why the day hadn't been better advertised.
Fish where the fish are
As one of those things that make me go 'hmm', it led me to wondering why, if racing is a horse sport, we do not appeal first and foremost to other horse people? And if it follows that one should fish where the fish are, how is it possible we do not advertise in local tack shops to let other horse folks know what we're up to?
I took one such horsey friend to the New Year's day meeting at Durbanville this year. As she is better at social media than I am, she posted a photo of our outing, tagging her location. My friend happens to have grown up in the area, but now lives in Johannesburg. However, she obviously still has friends and contacts in the Cape and it was interesting to see the response to her Facebook post, with most of her horsey friends expressing surprise that she'd gone racing on their doorstep while they weren't even aware there was a meeting happening. Food for thought?
Entertainment
The South African Association of Professional Farriers had come along for the day and hosted a farriery competition, adding activity and chat while they honed their craft.
A large Bedouin tent stretched the shade over the concourse area, and with additional tables and chairs arranged below, turned the usually rather drab and uninviting area into a lovely, user-friendly space.
The day's live band, the all girl duo of Natalie Mostert and Belinda Prinsloo, who perform together as Twixx, not only worked their socks off all afternoon, they also actively helped promote the event via their social media platforms. Better yet, they were not only good behind the mics, but were obviously well briefed and incredibly courteous in ensuring they did not perform during the canter downs or racing.
Buzz
The upstairs members area as well as the deck was jam packed and downstairs was buzzing too. The kiosk kept the foot traffic fed and watered and for those who like something a little stronger with their water, the Drifter Brewing Company were there with ice cold beer on tap as well as Gin & Tonics. There was a good knot of people around the parade ring all day and even spectators to shout home our horses from the rail – what fun !
The other lovely attraction of Durbanville is that you almost always bump into old friends and Saturday was no exception. Jacqui and Victor Hodgkinson and Peter Bedford from the old Cape Hunt days were there, and even a celebrity in the form of Mark Sutherland and his family, who had come out for a day's racing.
There were family groups camped out on the lawns and even people sitting in the old grandstand.
Racing
The racing was good – with several longer distance events, it offered a spectacle for visitors as horses passed the stands twice and there were plenty of competitive finishes as well. With a lot of the season's feature runners enjoying a break before heading to Durban, it was a chance for some of our smaller yards to shine and congratulations to the Adam Marcus yard in particular for a nice double on the day. Apprentices Louis Burke and Sandile Mbhele got some mileage under their belts, while our senior jockeys ensured competitive racing.
Picnic
One of my favourite spots for the day was Fran and Walter Cowe's car park picnic. While a little more relaxed than the Ascot equivalent, it was marvellous nevertheless and a great, fun addition that should definitely be considered as an offering going forward. I think it could really catch on!
Better yet, part of their party was Margaret Louw from Maine Chance Farms, who had come along for the day's outing and relayed a rather fun story. During his international campaign, a young Silvano had been accompanied by a girl named Bianca Wächter, who ended up travelling the world by his side. As Bianca still stays in contact with Dr Jacobs and Silvano via Gestut Fahrhof, the realisation that Silvano was turning 22 prompted her to book a trip to South Africa to visit her old friend and she spent a few days on the farm with Silvano last week. Bianca had come racing on Saturday, so I got to meet her.
Horses and People
Silvano is famously kind and gentle now, but I was curious to know what he was like during his racing days and Bianca kindly shared the following story.
When Silvano travelled to Hong Kong for the 2000 Gr1 Hong Kong Gold Vase, they arrived in the very early hours of the morning. Protocol requirements dictated that the Hong Kong authorities needed to obtain a urine sample before Bianca was allowed to leave his side. On arrival, Bianca explained that Silvano had relieved himself on the transport vehicle on the way over and would therefore be unable to supply a sample immediately. She asked to be allowed to go to her hotel for a rest, a shower and a change of clothes and get the sample for them in the morning, but the Hong Kong authorities held fast. Rules were rules and she had to stay with the horse until their sample had been collected. With no alternative, she bedded down in Silvano's stable for the night to ensure that she'd be on hand at the appropriate moment. Bearing in mind that Silvano was a 4yo entire at the time, had endured a stressful journey and been landed in a strange environment, Bianca says that he took it all in his stride.
She spent the night sleeping in the stable with him and says even though he got up and down a few times during the night, he was always incredibly careful to make sure not to stand on her. "I would not have done it with any other horse, but I knew I could trust Silvano."
From Hong Kong, the pair set off to conquer the world, travelling to Singapore to win the Singapore Cup and then on to international feats in Dubai, his Arlington Million victory in the USA and even Australia. It is a mark of just how incredibly special this horse is that he still inspires such love and loyalty for his friend to travel half way across the world to see him all these years later. But Silvano seems to have that effect on people. When Monty Roberts came to visit South Africa in 2016, he also made sure to set aside an afternoon of his hectic schedule to pay Silvano a visit, commemorated by that beautiful photo by Jeremy Nelson.
Our little chat under the Durbanville sunshine served as a timely reminder how very lucky we are to have this special horse and that we should enjoy and celebrate him while we can.
As Les Carlyon so aptly wrote, "This is what makes racing interesting – horses and people. These are the only things in racing worth writing about. The rest is dross." How right he was.
‹ Previous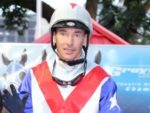 NHA – Kennedy Suspended