Saturday, 10 February 2018 sees the third annual Horses For Causes race day and charity fundraiser hosted at Kenilworth Racecourse.
VIP Package
The day, which is put together to benefit 12 community upliftment NGO's, will be held in the Peninsula and the Kenilworth Rooms, the theme is Bohemian Blue and guests are welcome from 12h00. In addition to an 8 race card, the day offers its VIP guests a luncheon buffet, wine and cocktails, while the MC's will steer the afternoon's entertainment line-up, which includes a fashion show, a pampering glam bar area and a gorgeous fascinator station, courtesy of the wonderfully generous and talented folks at Langaro Lifestyle Centre in Camps Bay.
Raising Funds
Thanks to the generous assistance from NHA and Western Cape Equine Trust Chairman Ken Truter, the Committee has assembled a stellar stallion auction line-up, which promises to be one of the afternoon's highlights. The auction, which will be conducted by Cape Thoroughbred Sales, will be held after the sixth race and features services to What a Winter, Philanthropist, Duke of Marmalade, Visionaire, Querari, Elusive Fort, William Longsword, Coup de Grace, Twice Over, Futura, Pathfork and Master of My Fate. As with all the day's offerings, it's all for a good cause with the proceeds to be split 50/50 between the WCET and Horses for Causes.
In addition to the stallion auction, also on offer to the highest bidder are fine wines, hotel weekends away and Land Rover off road experiences.
Anyone who cannot attend, but would like to express an interest in any of the services on offer, is welcome to contact Tracy on [email protected] or by phone on 083 604 1577.
General Entry
General entry is free and in conjunction with Kenilworth Racing, there will be a market on the lawn as well as an activation by the SA Jockey Academy, one of the day's beneficiaries, featuring a racing simulator for aspirant jockeys to test their skills.
About Horses For Causes
The Horses for Causes concept was originally the brainchild of André Oosthuizen and Tracy Green, but has grown to five incredibly hardworking and amazing individuals, who all give their time and expertise for free and the committee now includes the talents of Wade Audagnotti, Jessica Nosworthy and Brenton Joseph.
The idea behind the project was to highlight the incredible work done by local NGOs, and at the same time raise much needed funds for the beneficiaries, through events other than just the usual black tie dinner and auction.
Beneficiaries
Initially starting with 16 beneficiaries, the number has been condensed to 12, and includes the SA Jockey Academy (SAJA), The Western Province Grooms School Trust and the Carthorse Protection Association, which have all been on board from inception. Tracy explains, "Choosing our beneficiaries was incredibly hard as there are so many deserving organisations. However, we wanted to cover as many sectors as we possibly could, and after many long meetings and difficult decisions, our core group was chosen. The reason we chose SAJA, the Grooms School Trust and the Carthorse Protection Association was quite simple really – not only do they do incredible work in their communities in the form of upskilling, training, education and empowerment, but we knew that if we hoped to have the horse racing community support the H4C events, we needed to ensure that we gave back to that very same community."
Their inaugural event, held in January 2016, was very well supported by racing and has grown enormously. The current season started off with a high tea event, On the Lawn, in Hout Bay; followed by a golf day and will culminate in Saturday's Race Day.
"The Cape's breeders, owners, trainers, jockeys and racing community have been incredibly supportive and generous," continues Tracy. "It is the second year in a row we have partnered with the Western Cape Equine Trust for our stallion auction. All the proceeds are split 50/50 between the WCET and Horses for Causes – another way in which we are strengthening the bond between ourselves and racing."
How To Join In
Although there are no more full tables of 10 available, there are a very limited number of individual tickets still be to be had at R700 for the Kenilworth Room and R850 for the Peninsula Room. The Horses For Causes team would love to have the 'House Full' signs up, so please book via email at [email protected] or call Tracy on 083 604 1577.
‹ Previous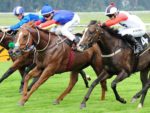 Shock Defeat For Favourite