In December 2017 came the news that Heversham Park Farm had acquired G2 Dante Stakes winner, Wings Of Desire.
In mid-February, they followed up with the intriguing announcement of a potential a tilt at this year's Vodacom Durban July. We chatted to Fred Brons, Heversham's director of stallions, to find out more.
He confirms the plans with a good-natured chuckle. "Initially we just wanted to put him in training, stay under the radar, and see how his prep goes for the July. This is our sole intention! But the second he was nominated for anything, people would start speculating, so we decided to just do it properly." Why the July? "His past and what he's done," he says simply. "Remember he's only had 8 starts in his career. It wasn't something we initially had in mind, but when he came to South Africa, he was sound and he's only just turned 5, so we thought is there anything South Africa that's as good as he is over 2200m?"
The intention is first and foremost for him to be a breeding stallion. "We bought him for stud and have every intention to breed him, but there are no restrictions so if he wins the July with ease, we'll have to decide what to do from there," he says with a chuckle. "We don't have any firm plans as far as that's concerned. We still want him to start this breeding season, but if he can put up a good run in the July, he may just add 25-30% to his first season mare count."
Wings Of Desire was released from quarantine – along with a second Heversham acquisition in the shape of Lord Of The Land – on 14 February 2018. After a few days at the farm in Daleside Valley, they invited Ormond Ferraris to come and take a look and give them his thoughts.
"Mr Ferraris came and had a look last Saturday morning. He couldn't stay long, unfortunately. Funnily enough, he liked the other one, Lord Of The Land, and said 'I wouldn't mind training that horse,' but Lord Of The Land is 7 years old already, so that's not going to happen." What were Mr Ferraris' thoughts? "He doesn't say much, he's not one of those over the top kind of guys, but he is keen to train him. We agreed to drop him off on Monday morning at 7:30am, he rang to ask whether the horse had left yet, so he seems very excited. We're quite excited too. We'll give him two months or so and see if he is up for the July. If he does, good. If not, we'll pull him out immediately and he'll go straight to stud."
About Heversham Park Stud
The Heversham Park Stud is a joint project between Fred and Advocate Nigel Riley and Fred explains, "When we started out, we decided we were not going to invest in stallions and that we'd invest in mares and focus on using the stallions that are available locally and design our matings according to the T-BAS (Thoroughblood Bloodline Analysis System) which is a system I've designed over the past 25-30 years."
The T-BAS system is based on what Fred calls Bloodline Cards, which is a method of assigning ratings. "I started it from grassroots level back in 1977 – and that's a long time ago now!" he laughs. "We've been testing it and it works. It's very exciting. When I updated the Bloodline Card and what it indicates as best for Lord Of The Land, it turned up mares by Danehill, Danzig and Green Desert. There are a few others that are prominent, but those were in the top five. We've just upgraded our broodmare band with Danehill Broodmare sire mares are adding Green Desert related mares as well and last Saturday, Lope de Vega produced an international Gr2 winner out of a Green Desert mare, which is tremendously exciting for me because Lord Of The Land and Lope de Vega are full brothers. When you see things like that, you just think, WOW!! It really works out exactly the way you predict. On Saturday I updated the Bloodline Card and on Sunday I looked at international racing and there's this horse. It hits you right between the eyes and tells you good and proper that we're on to something."
Breeding Philosophy
"When we initially decided to focus on mares and not stallions, it was quite a costly exercise. Also, although there are a lot of stallions in South Africa, there's only a small group that's really commercial and because of their age and their shareholders and so on, you can't get to them anymore. They're fully booked and reducing the number of mares they're accepting. So yes, there are a lot of stallions, but very few that are really are accessible to meet our needs. So we decided maybe we ought to look at some stallions after all."
"The Gauteng area and surrounds often seems to take up the slack of stallions that are not wanted elsewhere, which means one ends up with a whole lot of stallions that mean nothing and they definitely will not draw a band of top mares in our country. We did look at some that were available, and will not close the door if we identify the benefits of such sires, but decided we'd be going in the wrong direction and made a policy to get our own fresh stallions from the track."
Stallion roster
Two likely candidates were identified initially, which were Moofeed (selected while he was still racing) and Favour Stud's Harry Hall (Pivotal). "Although Harry Hall was not necessarily a popular stallion, when I studied his profile in detail, we found that he'd only had 4 foals in his first season and all four ran in the money. Three were winners of whom 1 was black type. Since then all four have become winners and he's still got the one black type progeny, giving him a 100% record. Show me another sire with a 100% winning record, despite only 4 foals That's stunning for a stallion that hardly got mares and what he did get, was of poor quality. The mares he got were mares that breeders were struggling to get in foal, or had serious leg problems. One of the mares could hardly look over the stable door! That's what he received to try and build a name for himself. He did it with style, but would the industry identify this talent?"
Accordingly, Heversham acquired a ½ share in Harry Hall from Ernst du Preez of Favour Stud, but he'd only covered two mares at his new home before he contracted biliary and died. "It was a bad hurt that," reflects Fred. "We had tremendous hope for him and 30- 40 mares lined up the first season at Heversham."
Fortunately Moofeed was able to step into the breach and benefitted from a few additional outside mares that had originally been booked to Harry Hall and still wanted to support Heversham, "So he had a fairly good season," continues Fred. "It was not as good as we wanted, but we cannot develop the stud without options to the breeders, so we though let's venture overseas for additional stallions."
New Acquisitions
With an eye on bringing in something unique, they cast their net wide. "We have the Danehill line with Moofeed, but we wanted something different to what's already standing in South Africa and were offered Lord Of The Land (Sharmadal – Lady Vettori). "We had a good look at him and immediately said yes and the deal came off, just before a USA breeder could firm a deal."
"Harry Hall was a Pivotal and we specifically wanted another one," explains Fred. "Harry Hall was an incredible horse. He's not a horse that initially made any stud sense, but he's a horse with enormous character that you could love and hug him. He had a wonderful temperament – you could have a 5yo little girl standing underneath him and he wouldn't do a thing to harm her. We fell in love completely and decided we wanted to get another Pivotal."
It wasn't long after finding Lord Of The Land that they found Wings Of Desire (Pivotal – Gullwing). "He'd run 4th in the Epsom Derby, followed by a 2nd in the Gr1 King George VI & Queen Elizabeth Stakes, but his three starts after that were a bit disappointing and the owner decided not to go any further. It took some negotiating, but eventually they came back and said OK, so that's how we got him. We also had a slight twist to the tail with him though. We haven't even paid the deposit when we were asked to accept a EUR 50 000 'gift' and walk away from the horse."
Diversity
"Moofeed is the only son of Duke Of Marmalade at stud, but although Duke is also in the country, what we need here is speed and Moofeed is one of the few Duke Of Marmalades that was a speedster – 1000-1400m was his best distance. So we have a little mathematic formula, – Duke Of Marmalade x Speed = Moofeed!"
"Lord Of The Land is a Sharmadal and there aren't any of those in South Africa. From Pivotal we had Harry Hall and Noordhoek Flyer and neither of those are still around, so we think we've got something quite unique for this great country of ours."
Type
Asked what the two new stallions are like on type, he says Lord Of The Land is a big horse. "He's a nice horse, but when he was in Ireland, he had a winter coat and so on. He looked fairly big, but normal. Nigel went to Ireland to look at him and said wow, he's nice, but now when you see him in the flesh, he's lost that winter coat and he looks stunning. When Ormond came round to have a look at the boys, he said he wouldn't mind training that. He's just got the looks."
"Wings Of Desire is also a big horse, but he looks like a kid still. He's only 5, but he's not a mature looking horse. He's a powerful looking horse, but a different type. I think he's still got a lot to come. One of our colleagues who does our horse feed supplements, Dougie, came to the farm and rated Wings Of Desire as the better looker, so it just shows. Both are strong, classy horses, with good legs, good hindquarters and beautiful heads."
Safe Landings
The horses came out of quarantine on 14 February and transferred to the farm. "They're still settling. Obviously they've been cooped up in a small area for 2 months and you can see they just needed some space to run and feel free. When I got to the farm, they were in their stables which have a small paddock area in the front. They were clearly restless in the confined area and I asked the crew to take them to bigger paddocks and then they did their running, rolling in the 'new' South African soil and went mad. So no, they're not very settled yet. It will probably take another week or so before they calm down, but it's a new environment and lot of mares in their sights and beautiful hot summer weather."
After being looked over by Ormond Ferraris, Wings Of Desire was transferred to Turffontein on Tuesday, 20 February. Fred reports that Nigel dropped in to see Wings at the stables on Thursday witih the feedback that he had settled better in the racing stables than the farm. "Maybe he is now back in his comfort zone!"
We look forward to following their progress.
‹ Previous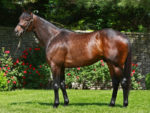 Klawervlei Welcomes Royal Mo