Three steps to turf immortality.That's the reward of dominance and supremacy in the three designated races from March to May, that could see us crown a 2018 SA Triple Crown or SA Triple Tiara star.
The SA Triple Crown, with the SA Triple Tiara, gets underway on 3 March, and is undoubtedly a remarkable test of ability, character and endurance. To win three tough races from a mile to 2450m over eight weeks takes a helluva horse and a feat of conditioning. That's why we have names like Mike de Kock, Geoff Woodruff and Mike Azzie on the honour roll.
The great Horse Chestnut won the inaugural Triple Crown in 1999, Louis The King did it in 2014 and Abashiri was the star of the show in 2016.
But is it really the 'ultimate test of brilliance', as often tagged?
Logistical factors, such as travelling and the altitude, often prevent the emerging stars from the Cape from taking their chances. "Master trainers have been trying to raid Johannesburg from Cape Town for more than a century. It has been done successfully on occasions but, basically, we can't reinvent the wheel." Jono Snaith told Michael Clower recently.
Bringing in the alternate first leg of the Gr1 Cape Guineas hasn't really worked either. So the prestigious SA Triple Crown kicks off with a Gr2 in the Gauteng Guineas.
Race gradings are fairly scientific. Assessments  are done on the basis of the top four finishers' top rating achieved at the end of the season being averaged out. This is done over a three year period to achieve a levelling out. For Gr1's, the average required is a 115. If this is not achieved, the IFHA will issue a warning and a likely downgrade follows.
Let's think about reinventing  the SA Triple Crown. What about the Cape Guineas (December), reschedule the Daily News to April, and culminate with the SA Derby in May?
Is parochialism, coupled with control and vested interests across provincial and operator boundaries, preventing us from putting our heads together and creating the genuine 'ultimate test of brilliance'?
Click on the image below to get all the latest news, previews, reviews & views

The R11 Million Calendar
The R7 million SA Triple Crown for 3 year olds is the richest series of races in Africa.
The Triple Crown comprises:
Leg 1: The R1-million Gr1 Cape Guineas 1600m – already run
OR
Leg 1: The R1-million Betting World Gr2 Gauteng Guineas 1600m – Turffontein  Saturday 3 March
Leg 2: The R2-million Gr1 SA Classic (Grade 1) 1800m – Turffontein Saturday 7 April
Leg 3: The R2-million Gr1 SA Derby 2450m – Turffontein Standside Saturday 5 May
A bonus of R2 million will be paid to owner/s of the horse that wins all three legs
The R3.5-million / R4-million Wilgerbosdrift SA Triple Tiara for 3-year-old fillies is the richest series of races for fillies in Africa.
The Triple Tiara comprises:
Leg 1: The R1-million Gr1 Cape Fillies Guineas 1600m – already run
OR
Leg 1: The R500 000 Gr2 Gauteng Fillies Guineas 1600m – Turffontein Saturday 3 March
Leg 2: The R1-million Gr1 SA Fillies Classic  1800m – Turffontein Saturday 7 April
Leg 3: The R1-million Gr2 SA Oaks  2450m – Turffontein Saturday 5 May
A bonus of R1 million will be paid to owner/s of the filly that wins all three legs
‹ Previous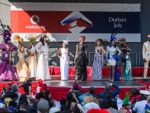 It Is Time