Trainer Sean Tarry has confirmed that his horses are fit and well and that he is looking for some big performances from his charges during the forthcoming Highveld Autumn and KZN Champions Seasons.
According to reports, Tarry has earned over R10 million in each of the last three Highveld Autumn seasons and he is expected to cut back the current lead of close on R7 million held by the rampant Justin Snaith on the SA Champion trainer table.
In an exclusive chat to the Sporting Post, the multiple SA champion announced that former Charles Laird Assistant trainer Lorenzo Karriem taken the reins of his KZN Sattelite yard from Deshone Steyn, who left this week.
Read Deshone Steyn heads to Vaal
"I want to wish Deshone everything of the best in his new venture. He has been with me since Succesful Bidder's win in the 2007 Drill Hall Stakes and he has played a prominent role in the yard's success. A change is as good as a holiday and I hope things work out well for him."
Sean said that former jockey Lorenzo Karriem would be taking over the day-to-day running of the KZN yard.
"He has had a good grounding of experience with top trainers like Joey Ramsden and Charles Laird and we have a vibrant team ethic and a solid base of top horses and good owners. I want to welcome Lorenzo and wish him success."
As for the recent Randjesfontein Sale of horses out of his yard, Sean said that he was fortunate to have some young horses coming in to replace the older horses.
"That's the nature and cycle of the game. We lose a few and we gain a few. I am looking forward to being very competitive in the forthcoming feature seasons. We have the established structure in place and now we just need a bit of luck to go our way on the track," he said.
‹ Previous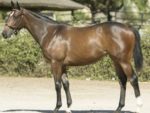 Alec Speaks Frankly