There is not a lot in racing that can bring a tear to the eye of the Eastern Cape's tough-as-teak Scots born lady trainer. But after an upside down two months, who could really blame Tara Laing from feeling a flood of emotion as she unsaddled the 6yo Dynasty entire Trees Of Green at Fairview on Friday.
The former Mayfair Speculators private trainer is not yet through the storm that engulfed her business in early December. But like a true fighter, she hasn't curled up and cried herself to sleep.
Packaging horses and finding new owners, she has been on a mission to ensure that her business is not listed amongst the collateral damage also rans of one of the biggest shock-waves to hit South African horseracing this century – and maybe even last century.
That's all history now. Tara's not looking back and blaming anybody. Having set her sights on resurrecting her career, looking after her son and his education, and maybe even reinventing herself, Trees Of Green's gutsy win in the MR 80 Handicap, was a light at the end of the tunnel for the seasoned horsewoman.
Having his second run for her former top jockey fiance and key member of her team, Gavin Venter, the 6yo dug deep under a balanced ride from the underrated Ryan Munger to clock up his fifth career win.
It was his second run in the Gavin Venter silks, after being narrowly beaten on 24 January. It was also Gavin's first winner for Tara.
"I believe in fairytales," an emotional Tara told the Sporting Post on Friday.
"My son Ewan was just 14 when he started riding work. The pic below shows him on Trees Of Green in his very first canter over 1200m. They have a remarkable bond – this horse has looked after him.Before he jumps on the school bus in the morning, he is in Trees' stable. They love each other!"
Tara says that when the entire came on the market, Ewan came to her and asked that she not let him go.
"I was obviously not in a financial position to make an offer, and so Ewan and I both looked at Gavin (Venter), all the while bawling our eyes out! He got on the phone to Derek Brugman immediately and did the deal. I cannot thank Derek and Gavin enough for making Ewan a very happy young man. And for ensuring a lovely horse stays in my yard!"
Tara tells that it gets even better as the 16 year old Ewan watched Friday's race at school with his classmates cheering Trees Of Green home.
In the style of a typical owner, she received a whatsapp after the race from her son :
'Tell Gavin I'm happy with Trees Of Green's run'.
That  was followed quickly by a more emotional:
'I'm soooooooooo happy!'
Bred by Gary Player Stud, Trees Of Green cost R3,6 million at the National Yearling Sale. He has won 5 races with 7 places from 24 starts and has earned a shade over R300 000.
The well-named son of Dynasty is out of the six-time winning Complete Warrior mare, Wonderful World. A clever name – take a listen to the song below!
Trees Of Green was the first leg of a Tara Laing double. Callan Murray rode Ratso Rizzo to his maiden win in the fourth – at his 17th attempt.
‹ Previous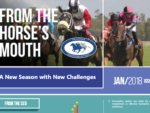 New Year, New Challenges