Team Valor International and Drakenstein Stud's 11-year-old Ebony Flyer, which famously beat Igugu to claim the Gr1 Cape Fillies Guineas in 2010, has been covered by Duke of Marmalade and will enter quarantine shortly to begin a trip to England.
Barry Irwin, CEO of TVI, said "Gaynor and I very nearly did this a couple of a years ago, but decided to see what kind of foals the mare would produce before undertaking such a costly and time consuming venture.
"We like very much what we have seen from the mare so far. Her first foal, the current 3-year-old Cot Campbell, is well above average. Her 2-year-old Captain Al colt Captain of Tortuga is a well-made, substantially built youngster that I consider to be as good looking a horse as I've ever bred.
"She will leave behind two fillies, a yearling by Duke of Marmalade and a foal by Silvano, so with those two females in tow and two fine colts in training, we feel well justified in sending the mare to England."
It was decided to skip the Southern Hemisphere breeding season in favour of one cover on Northern Hemisphere time. Irwin said "If she does manage to get in foal, it will be easier for her to begin cycling in England after she has delivered a foal. That's why we opted to breed her this month."
Ebony Flyer will be boarded at Gaynor Rupert's private farm in England.
No mate has yet been selected for the triple Gr1-winning broodmare, but both partners agree that Ebony Flyer deserves a chance at being covered by a top English or Irish stallion.
Ebony Flyer, bought privately as a foal alongside her now illustrious dam Sunshine Lover, was a very tall filly, standing more than 17 hands 1 inch. Yet she came good right out of the pens, winning over 1000 meters on debut at 2. Her Gr1 wins aside from the Guineas came in the Majorca over 1600 meters and the SA Fillies Sprint over 1200 meters.
Sunshine Lover is the only mare in South African history to have produced a pair of Guineas winners, as her daughter Captain's Lover, which was bought by Irwin as a yearling at the National Sale, previously turned the trick.
Press Release issued by Team Valor International
‹ Previous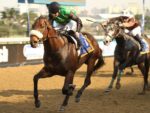 Unraced Lateral Colt Tops Shongweni