What is wrong – if anything – with our race starting processes in this country?
The Turffontein first race saw two horses being withdrawn at the start.
The eventual winner, William The Silent, a son of Var, showed good ability to get the better of recent runaway debut winner, Van Halen.
Winning trainer Robbie Sage came across in the post-race interview as a man with mixed feelings.
"That was a pleasing win but such a pity about his stablemate Dewali, who was withdrawn. He is probably even better than the winner, but ended up standing in the stalls for five minutes. That's wrong. It's offside."
Who is offside?
The impact of bad starting protocol plays out on turnover, punters, owners, trainers and anybody involved with a particular horse – and also creates an environment for injury for horse and rider.
Should the National Horseracing Authority not be doing something about it?
‹ Previous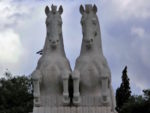 Wrong Horse At The Vaal