Leading jockey Anton Marcus pulled no punches when he suggested that horseracing officials did not appear to be aware of the reality that it is punter money that keeps the game going.
Marcus was speaking after he had ridden the odds-on favourite Antony Hotspur to victory in the carryover Pick 6 opener, the Greyville third race on Sunday.
"This gelding barrier trialled just a week ago and played up badly there. He was probably the shortest priced horse on the afternoon and everybody's banker. Yet despite the experience of the barrier trial and the starter knowing what happened there, we are loaded early," he said after Antony Hotspur had become unsettled and had to be taken out and examined.
In nervous moments for backers, Marcus was  given the go ahead to load and he landed up winning easily in the end.
"Nobody is looking for preferential treatment. And naturally the safety of horse and jockey is of paramount importance. But the public's money is what keeps the engines running. We owe them better than this. We need an urgent think tank on the starting process," added the veteran rider.
Assistant trainer Nicolette Roscoe said that Antony Hotspur was a bit above himself after a seven month rest and said that he did get uptight at his barrier trial.
The call for action by Marcus comes just 48 hours after the Le Grand Rouge incident at Fairview on Friday.
‹ Previous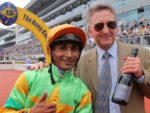 Teetan's Double Century