I'm a graduate of Douglas Adams' book series Dirk Gently's Holistic Detective Agency and the theory of the interconnectedness of all things.
With the Thoroughbred stud book being a closed one, one could argue that it is inevitable for things to be connected, but sometimes they are just a little more connected than most.
Series Of Events
In November 2017, a high quality bay galloped to our attention in the Gr2 Dingaans. It was a great excuse to finally cross off an item on my 'to do' list, by having a chat with Alistair Gordon. I duly interviewed Alistair Gordon and as Monks Hood looked like a nice horse to follow for the season, it made sense to chat to his breeder down at Benmarne Stud, Arne Botha. Arne is one of life's enthusiastic and thoroughly lovely people and we chatted at length about all sorts of things, including, to my delight, the fact that he had David Ferraris' 1998 July winner, Classic Flag retired on the farm at the grand age of 23. Being a bit of an evangelist for racehorse aftercare, it always makes me happy to find when one of our stars has had a safe and happy life beyond the track.
A month or so later, Luke Ferraris made his track debut at Scottsville, giving me an excuse to ring up his dad in Hong Kong and get to know him a little better.
Then dear old Monks Hood just kept overachieving, culminating in his sensational Gauteng Guineas win on 3 March, which prompted a round of congratulatory messages and phone calls, including one to Benmarne to wish them well on their wonderful produce. So it was awful to find myself on the phone to the Eastern Cape again just four days later to confirm the news that Classic Flag had passed, peacefully, in his paddock, just a few hours after having his routine farrier and dentist visit.
I composed a hurried summary of Classic Flag's career highlights – which are pretty awe inspiring – and shared a notice on Facebook, intending to flesh it out with a little editorial later on, but then the post just kept attracting comments, likes and shares, the likes of which I rarely see and I realised there was a bit more to this little bay horse.
Chronicle Of A Champion
The Blythe's inherited Summer Classic from Ormond Ferraris, who had owned her in the Karoo. Standing her to their resident stallion, Allied Flag, in 1994 she produced Classic Flag on Peter and Jenny's original Clifton Stud, based in Swaziland near Lothair. "The family seemed to nick to Allied Flag," recalls Peter, noting that a daughter of Summer Classic's mated to Allied Flag produced Omaha Beach, that wonderful galloper who served Joey Ramsden so grandly until the age of 10.
"I'd often ask the grooms what they saw in the paddocks," recalls Peter. "One day he'd be at the front when they ran and other days he wouldn't. He was always an athletic horse, but wasn't really a standout in the bunch, to be honest. And he was quite a small horse." But Classic's brilliance lay on the inside.
Sale
The colt raced in the interests of Professor and Mrs Herbst and Peter chuckles as he recalls the sale. "We had a Breeders Premium in the Transvaal in those days and Professor Herbst had a voucher for R15,000 or so. He was walking around the sale ground muttering and cursing, looking for a Transvaal horse. As we were from the Transvaal, he came round to us. The Ferraris' obviously knew the family and advised him to buy the horse. My reserve was R20k and he was knocked down for R20k. Herbst bought him very reluctantly, but R2,25 million later, say no more. It just shows you that horses don't know what they cost."
Peter jokes that David Ferraris's wife Pam "is a full sister to my wife, Jenny, so the horse stayed in the family, so to speak. We got to see him in the yard before he even started to race and we followed his every move." He remembers Prof Herbst being quite robust in his opinions. "After he won his maiden, they entered him in the Transvaal Breeders' Plate, which was a race for Transvaal horses only. He was hotpot favourite and duly won. In the winner's box, Herbst told the interviewer he'd win the Dingaans next. I quaked in my boots thinking 'Does he know what he's talking about?' but he duly won the Dingaans after which he said 'And now the July!', he still chuckles at the memory. "But, confident as the man was, he was right."
Champion 3YO
After the Dingaans, Classic Flag won the TAB (OFS) 3yo Stakes at the Vaal and then raided to Cape Town for the Cape Guineas, where he went down a short head to the mighty Jet Master. Piere Strydom was in the irons that day and remembers, "He wasn't a big horse, you know? Obviously he had ability and he could travel in a race. He'd always be on the bit, then he'd give you that kick. I can't remember how many times I finished 2nd in the Guineas, it's some ridiculous figure, but I always say when a Joburg horse comes to Cape Town and has to take that left hand turn, they just don't seem to know where they are and that can cost you in a big race like that. Classic Flag was quite an intelligent little chap, he knew what he wanted to do and how to do it and he adapted quickly. The fact that he finished that close to Jet Master says something." Although the two parted ways, Piere adds, "We had our fall outs, but always managed to get back to one another. David knows how to train a horse, he's a very good trainer. His horses were always in good shape and he's a good judge, he always knew when a horse was ready to win."
After the Cape Guineas it was back to the Highveld for the MEC Guineas. This time there was no mistake and they beat Chief Editor by nearly two lengths.
With Anthony Delpech in the saddle, Classic Flag reversed the Cape Guineas form, beating Jet Master by 1.5 lengths and then headed to Durban. He was second to Flying Duel in the 1998 Daily News 2000, followed up by that Rothmans July triumph, winning as a 3yo from the widest draw.
Big Win
Anthony Delpech, who collected his first July sash on Classic Flag, says "All I can say is he's one of the horses that started me off winning big races. I was still very young and had just joined David Ferraris as a jockey and he's the horse that gave me that kick. I won the Classic on him and then the July."
He recalls that day in 1998. "It was a courageous win. He was drawn 18 out of 18. The race didn't map out for us, I had to go three wide and move early. It just shows how much courage he had and how good he was to still win," he says in admiration. "He was very small, but didn't feel like it when you rode him because he had such good action. He's definitely a horse that will always have a special place in my heart."
Classic Flag would be named 1997 Champion 3yo Colt as well as Horse Of The Year by the ARCSA panel.
Classic Flag was second, but not disgraced in the 1999 Met in which Horse Chestnut roared home by 8 lengths. He claimed a second July cheque in 1999, finishing second to another grand little horse in El Picha. In 2000, he finished 4th. During his 36 career starts, he took on the likes of Jet Master, Horse Chestnut, El Picha, Fort Defiance and closed his account on 10 wins, 16 places and in excess of R2 million in earnings.
Stud career
Ben Botha purchased him from Prof Herbst and stood 'Classic' at his Benmarne Stud in Blue Horizon Bay, producing 13 small crops before being pensioned off in 2015. The story comes full circle as his last foal is currently in training with Ormond Ferraris.
Ormond Ferraris describes Classic Flag as 'a neat fellow' and also recounts the story of his purchase. "He cost nothing really – how's that for a bit of luck? He didn't do badly at stud, but he had limited opportunities. I visited him from time to time – he was a good little chap. He was always very kind and gentle. I've got one of his progeny in now with the same temperament. Let's hope he can do something."
Final Years
Classic Flag was treasured by the Botha family for the remainder of his life. As befitted a champion of his calibre, he lived his days in a large paddock of lush green grass and remained his kind, gentle self until his very last day. Arne Botha paid him the following tribute: "All one can say is he was a phenomenal racehorse and friend to everyone he met. His last foal is now with Ormond Ferraris for training. Isn't it ironic that Classic Flag started with his son David and now his last foal, Chief Black Horse, is with Mr Ferraris? Classic's paddock may be empty, but he lies buried in his favourite corner and his achievements are engraved in history. He was a little horse with the presence of champions."
Classic Flag: 10 time winner, Rothmans July hero, stud sire, champion, friend. ARCSA Champion 3yo Colt, Horse Of The Year, horse of a lifetime.
Whether you believe in the interconnectedness of all things or not, life has a funny way of weaving old threads into new stories. Clifton will be offering 9 lots at the 2018 National Yearling Sales. The draft includes a Jackson colt from the family of Legislate who Peter declares 'quite a nice horse' as well as a half brother to Bezanova, another proudly Clifton Stud product, by Master Of My Fate. Why not pay them a visit?
Ed – a correction to this article was received from Alan Feraris on 15 March 2018
‹ Previous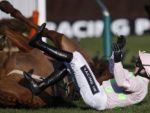 Cheltenham Definitely Goes Ahead Today