Cape racing fans who buy the Cape Times are up in arms after the publication failed to run the Racegoer page for the second day running on Wednesday.

Gold Circle has a long running contract with the 17 Independent Newspaper titles to carry fields and news on a daily basis under the banner of 'The Racegoer'.
The pages are prepared in-house at Greyville by Gold Circle's Publishing Department and exported to the various titles.

Gold Circle Publishing Manager Andrew Harrison said that he was in the process of communicating with Independent Newspapers. He said that he had been informed that there were pagination constraints at the Cape Times and that they had informed him that the Editor had the ultimate discretion to carry what they chose to.
The Sporting Post has been contacted by irate punters and readers who utilise the form and selections provided by the Racegoer page.
"It's a disgrace and I have no other reason to buy the newspaper beyond the horseracing fields. The newspaper is filled with bad news and politics from cover to cover," said one angry punter, who added that he recalled that the Cape Times had almost gone out of business when they decided to drop racing some years ago.
Sea Point-based race fan Solly Goldberg, who worked for the Argus for 42 years, said the last two days were the first time in living memory for him that the racing page had been absent. He lamented the loss of specialised departments and 'thick" newspapers.

"We used to have a Racing Staff, a Women's Page Staff, a Gardening Staff – full departments! The Racing Editors were legends too. The likes of Jan Botha, Maxwell Price, Chris Stokoe, who was The Rover – Barry Hopwood, Recondite, Dick Stent. Good grief – now that we are reminiscing I just realise how much life has changed. But it's all in the name of progress, I suppose. I just hope that the Cape Times comes to their senses. Racing doesn't need to lose a presence anywhere," added the font of information – who turns 80 in a few months!
Efforts to contact Cape Times Sports Editor Ian Smit for a comment were unsuccesful.
According to the MarkLives Big Daily Newspaper List published in 2017, the Cape Times – tenth of the top 10 – has a circulation of 31 212. This compared to the likes of the Daily Sun on 174 483 and Die Burger on 49 483.
The Cape Times was launched on 27 March 1876 and is owned by Independent News & Media SA. The Editor is Aneez Salie.
‹ Previous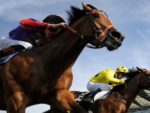 The Wrong Impression?