Colin Buckham, handicapper, long-time racecourse judge and avid golfer, succumbed to a long battle with cancer on Tuesday at the age of 78.
Gold Circle Publishing Manager Andrew Harrison writes that Buckham was a legend in racing, and one of the true characters of a sport that was his all-consuming passion and if he wasn't talking racing it was golf.
Colin started his working career as a bank clerk before becoming an assistant handicapper at the then Durban Turf Club (DTC) at Greyville Racecourse under Gerald Lee. He had a strong racing pedigree as both his father and grandfather were trainers. His father Jimmy started out as a jockey and was ignominiously dumped at the start of his one and only ride in the July when he got caught up in the starting tapes.
His cousin Cyril Buckham, later head riding master at the South African Jockey Academy, was the first South African jockey to win 100 races in a season and won two Julys with Monesteraven in 1948 and later Spey Bridge in 1956.
Buckham recalled, "I've been racing since 1954. When I was 10-years-old I used to sit in my father's car next to the track and watch the races. Children were not allowed on course in those days."
Later, Buckham joined Harvey Topham and Warren Eisele in the judge's box; 1975 to be exact. Colin was still assistant handicapper at the DTC and having to watch every race as a judge was of great benefit when it came to handicapping as in those days there was no Tellytrack or YouTube to watch replays.
After spending 40 years in the Judges Box at the three KwaZulu-Natal race courses, Buckham and Eisele were pushed into retirement at the end of July 2015, both over 65. The two were the longest serving judges in the history of South African racing.
When Gerald Lee retired, Buckham became chief handicapper for the DTC before all handicapping was put under the umbrella of the National Horseracing Authority where he worked until retirement.
Colin is survived by his wife Annabel and daughters Leigh-Ann and Anthea. There will be no memorial service but a small gathering of family and close friends at his home on Friday.
‹ Previous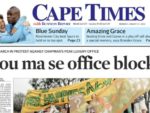 Cape Newspaper Fobs Racing