The Irish religious feast day of St Patrick's Day, held to commemorate the death of Ireland's Patron saint, has been observed in Ireland since the 9th or 10th century.
The history stuff
Legend, well, Wikipedia, has it that St Patrick (allegedly named Maewyn Succat) was born in Roman England sometime in the fifth century. Kidnapped and taken to Ireland as a slave at the age of 16, he either escaped or was released and returned to England where he became a priest, changing his name to Patricius, a derivative of the Latin term for 'father figure'. He then returned to Ireland to minister to the pagan populace.
It seems that St Patrick had a lot of success in converting the Druid culture to Christianity. His success, ascribed to being lucky, is one theory behind the green, Shamrock theme we are used to seeing today. Another popular legend is that St Patrick used the three leaves of the native Irish clover as a way to explain the Holy Trinity of Father, Son and Holy Spirit.
Saint Patrick's Day was made an official Christian feast day in the early 17th century, held on 17 March to commemorate St Patrick's death on that day in 461. Although the date meant it fell during the traditional period of Lent, the restrictions on eating and drinking alcohol were lifted for the day, fostering the tradition of celebration.
The tradition of using the day as a celebration of Irish culture seems to have originated in America in 1762, when Irish soldiers serving in the English army marched through New York City. The day is now observed annually across the globe in many different guises with each adding their own particular slant on it.
Why Beer?
Thanks to a Budweiser marketing campaign in the 1980's, downing beer has become a common way to celebrate the day, with some going as far as dying the beer green. In Chicago, it has become an annual tradition to dye the Chicago River green by releasing green vegetable dye into the water. Each to their own!
So in addition to being a celebration of the arrival of Christianity in Ireland, St Patrick's day is now seen as a more broad celebration of Irish culture, as well as just a good excuse to dress up in green, drink beer and generally have a good time.
Suffice to say, in true Irish spirit, the day, as well as the reasons for celebrating it, are open to interpretation, but what is certain is that it has become an excuse for a celebration – and who doesn't need a little more of that?
The Rub Of The Green
With its connotations of luck and its association with the Irish and, in turn, their ancient association with the horse, St Patrick's Day is the perfect fit for a day of fun at the races, so Luella Robinson and the Kenilworth Racing Team have joined forces to put together the first St Patrick's Day Student race day at Durbanville on Saturday, 17 March 2018. Ta-daaaaaa !
Mike and Luella Robinson of the Philippi-based Mike Robinson Racing team, are based in Paarl, making Durbanville's country track their 'local' racing venue. With the recent refurb and the success of the New Year's Day and Twilight Meetings, a chance discussion on how to optimise the venue as well as how to market the sport to a younger audience threw up the idea of a student day.
"As Stellenbosch is our closest University and they have a student body of 31,000, I approached them and was put in contact with the Chairperson of a number of their student societies," says Luella. "They are very enthusiastic about the idea. It's the University's centenary year, which makes it even more fun and it turns out they even have a gentleman's club who have a day at the races as one of their recommended activities!"
"I checked the calendar to see what big days, events or festivals might be happening around that time and came up with St Patrick's Day. It happens to be a good time for the students as it is a quiet period just before they start exams, so it's perfect."
Putting It Together

The whole team have pitched in with ideas and contacts to make the day as easy and user-friendly as possible. In the interests of responsible driving, to help get the students from A to B (and back again), HG Travel will be laying on shuttle busses from Stellenbosch at a cost of R20 for the round trip, with the first 2,500 passengers receiving a complimentary R10 betting voucher, courtesy of Betting World. The first bus will be leaving Stellenbosch at 10:30am and they will depart at regular intervals after that.
In addition to the action on track, there will be live music from Adriaan Krause, and the Stomers vs Crusaders rugby game will also be televised live on course. In the spirit of keeping things local, to keep things festive, well-known producer KWV have come on board for the day and will be offering white wine at R48 / bottle, red wine at R60 / bottle, bubbly at cellar prices and re-usable coolers and ice at R30 each.
Paarl's Cape Brewing Company (CBC) will be joining KWV on course offering a selection of craft beer at a very student-friendly R30 / 500ml and they are joining forces with Ralph's on-course catering to put together a beer and burger combo, to keep everyone fuelled for the day's racing. For those who prefer something a little more sophisticated, the members' areas will be offering a full, St Patrick's Day themed buffet, available all day at R245 a head.
There will be plenty of prizes up for grabs, with top billing going to a two night stay at Mykonos, courtesy of HG Travel. There will also be beer hampers from CBC for the winner of the 'pour a perfect draft' competition, a tour of Avontuur Stud Farm and a student competition for the best St Patrick's Day outfit with the prospect of an invitation to one of their sought-after student events (usually by invitation only) on offer.
Promoting The Event (yay!)
The team have all rolled up their sleeves and conjured up posters to distribute across local shops and hot spots across Durbanville, there are interviews on Bok Radio and Mike and Luella even teamed up with CBC's Christo Jacobs to put together a photo shoot as a bit of fun to help promote the day – and to test the CBC offering – strictly for quality control purposes, naturally! Huge thanks to Viv Woollen for the loan of her gorgeous horse Jock (also seen in action at last year's 'Jumping Jockeys' fundraiser). The CBC team will have a selection of three different craft beers to choose from and Luella confirms that they are all delicious.
The day's racing offers an eight race card, including a crowd-pleasing 2400m stayers' event programmed for visitors to get up close and personal with the horses, the jockeys and the noise and excitement of a field of horses being loaded and sent off under starters' orders.
Support
"We are really hoping for a fantastic day out," continues Luella. "The racecourse is a feature on the Durbanville landscape and it would be great to see the local community use and support it more often, so I thought 'let's do something'. It's our local track and we love it. It's fun, it's friendly, it's easily accessible and what better way to introduce people to racing right on their own doorstep? There are plenty of jockeys who live in Durbanville and we've spent all this money on doing up the track, so now we must use it! We might not have the budget for a huge race day like the Met or Queen's Plate, but you've got to start somewhere and everyone's pulled together to make something really special. It's an opportunity to do something different and try and get some new faces on course and who knows, with a bit of luck, it would be great to see this build into an annual event.
Anyone who feels wearing green at the racecourse is unlucky might want to give the meeting a miss, but if you aren't superstitious, why not come down and support our local racing?
Gates open at 11am and entry is free!
‹ Previous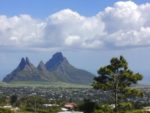 Mauritius Season Delayed