The first-timer comments for the Saturday meetings at Kenilworth and Turffontein.
KENILWORTH SATURDAY
Paul Reeves
Could not be contacted for comment.
Adam Marcus
Race 1 – RED RASCAL (7): He has shown me very promising work at home but this will be his first appearance at a race course and I am expecting him to run green. But in this field I would not be shocked to see him finish in the money.
Andries Steyn
Race 1 – RAPID REVIEW (9): She will need the run.
TURFFONTEIN SATURDAY
Sean Tarry
Prefers not to comment.
Gary Alexander
Race 1 – AWAIT THE SUNSET (7): This distance will be a touch on the sharp side for her.
Matthew De Kock for Mike de Kock
Race 1 – RAIN BLOSSOM (10): Is not showing much at home and I am hoping the race reveals more.
Geoff Woodruff
Race 2 – SHINING BLADE (13): Shows ability at home but I am not expecting him to win but could well feature in the places.
Disclaimer: A Gold Circle information initiative. The views and opinions expressed in this article belong solely to the quoted author and stable represented. None of Gold Circle, the author, trainer or trainer representative, accept liability for any damages that may arise from any reliance placed on the views expressed therein.
‹ Previous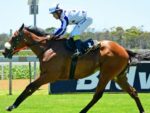 Fortune Flyer – No Further Action