Trainer Stuart Pettigrew has opted to take his chances from a wide draw in the Gr1 SA Classic for his smart Gimmethegreenlight colt Surcharge, rather than take on the might of champion miler Legal Eagle at unfavourable weight terms in the HF Oppenheimer Horse Chestnut Stakes.
The Classic Day picture for Turffontein on 7 April has started to become clearer after Pettigrew, fired up by a wide gate, kept his options open until the last minute.
A running on – albeit distant – second behind the subsequently exported Monks Hood in the Gauteng Guineas early in March makes Surcharge a massive contender over the extra 200m.
Piere Strydom takes the ride again and he may have most to fear from the Mike de Kock quintet, headed by Royal Crusade and Noble Secret – third and fourth in the Guineas.
Boom colt Majestic Mambo, who blotted his copybook in the Guineas with a performance punctuated by coltish behaviour, will be out to make amends. He went into the classic unbeaten after three starts, but was never in the hunt.
R2 million Gr1 S A CLASSIC 
For 3 year-olds (2nd Leg of SA Triple Crown)
1
5
Roy Had Enough (AUS)
60
110
A
W Kennedy
Frank Robinson
2
14
Surcharge
60
110
A
P Strydom
Stuart Pettigrew
3
13
Greek Fire
60
106
A
B Fayd'Herbe
M G Azzie/A A Azzie
4
1
Like A Panther
60
106
A
C Murray
Mike de Kock
5
10
Majestic Mambo
60
104
A
A Delpech
Paul Peter
6
4
Noble Secret
60
101
A
R Simons
Mike de Kock
7
7
Royal Crusade
60
101
BA
A Marcus
Mike de Kock
8
2
Lobo's Legend
60
97
A
M Yeni
Joe Soma
9
12
Alshibaa (AUS)
60
93
BA
R Munger
Mike de Kock
10
3
Pietro Mascagni
60
93
T A
G Lerena
Mike de Kock
11
11
Silver God
60
93
T A
R Danielson
Sean Tarry
12
8
Darkest Hour
60
89
BA
C Zackey
Barend Botes
13
9
Hero's Honour
60
88
A
C Maujean
Gary Alexander
14
6
Throng
60
82
T A
*L Hewitson
Sean Tarry
Same Trainer – Not Coupled on Tote
(4,6,7,9,10) (11,14)
Much like Surcharge, Gauteng Fillies Guineas winner Takingthepeace has pulled a wide gate for the second leg of the Wilgerbosdrift SA Triple Tiara.
The daughter of Visionaire beat her stablemate Silver Thursday by a quarter length in a thriller on 3 March, and both third placed Green Top and the consistent Folk Dance, who ran fourth, are back to try and turn the tables.
R1 million Gr1 WILGERBOSDRIFT S A FILLIES CLASSIC
3yof (2nd Leg Wilgerbosdrift SA Triple Tiara)
1
14
Takingthepeace
60
104
A
C Murray
Mike de Kock
2
9
Folk Dance
60
103
A
K de Melo
Paul Peter
3
10
Silver Thursday
60
103
A
A Delpech
Mike de Kock
4
15
Flichity By Farr
60
99
A
M V'Rensburg
Alyson Wright
5
8
Roy's Riviera (AUS)
60
98
A
W Kennedy
Frank Robinson
6
6
Cashel Palace
60
96
A
R Simons
Alec Laird
7
11
Fiorella
60
96
A
A Marcus
Duncan Howells
8
1
Aurelia Cotta
60
93
A
B Fayd'Herbe
Sean Tarry
9
7
Green Top
60
91
BA
M Yeni
Alec Laird
10
5
Rockin Russian
60
91
A
*L Hewitson
Sean Tarry
11
4
Radiant Splendour (AUS)
60
89
A
P Strydom
Gary Alexander
12
16
Mar Del Sur
60
88
A
C Zackey
Gavin van Zyl
13
3
Secret Potion
60
88
A
G Lerena
Geoff Woodruff
14
2
London Secret
60
85
A
R Danielson
Sean Tarry
15
12
Forest Express
60
83
T A
S Khumalo
Sean Tarry
16
13
Saragon
60
79
A
C Maujean
Gary Alexander
Same Trainer – Not Coupled on Tote
(1,3) (6,9) (8,10,14,15) (11,16)
‹ Previous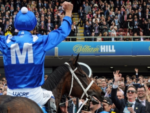 Chris Waller Makes The Call