"The game is in a shambles. It's dying. And then we have ridiculous rules, bad decisions and poor attitudes chasing people away. It's probably high time for me to reconsider how much of my good money I'm throwing after bad."
Leading owner Hedley McGrath bought 42 yearlings or 2yo's last year. He owns or has shares in 112 horses. He spends big money on what he concedes is a passion. He keeps many people directly employed. He has introduced new people to the sport. It's a game he loves. His father was one of the greatest Stipes this country has known. He knows the game inside out.
But after Friday's Fairview meeting, he is plain 'gatvol' and says he intends cutting his spend and interests in half. He will also not be attending the sales next month as he had planned to do.
"I am not speaking from my pocket. I won R17 000 on the day. I am speaking from my head and pure logic says that we can't carry on playing silly games with punter's money. The simple maxim that if you coudn't win, you cannot lose must apply. Le Grand Rouge was never a runner in the eighth race," he told the Sporting Post in an exclusive chat after the last race.
The incident that was the straw that broke the camel's back for Hedley was the Stipes declaring his fancied galloper, Le Grand Rouge, a runner after rearing – prior to the gates opening – in the eighth race.
Le Grand Rouge, a popular favourite after winning his last two starts in good style, can be seen rearing prior to the gates opening. His trainer Yvette Bremner has confirmed that the Western Winter gelding has no history of antics at the starting stalls.
As the gates are sprung, Apprentice Lyle Hewitson clearly has his bottom out of the saddle and is seen taking evasive action and sliding off on to the side of the stall.
The Starter took no action. Backers of the horse did their money in cold blood.
In terms of a revision of the rule published in the NHA Calendar 117 Volume 16 of 10 November 2017, applying to horses being declared a non-runner, if a horse is deemed to be the architect of its own demise as it were, it will be regarded as being under starters orders:
61.5.10.2 Subject to Rule 61.5.10.3: In the event of the actions of a handler preventing a HORSE from starting in a RACE and/or resulting in a HORSE being impeded and thereby losing a significant distance when the stalls are opened, and no false start is declared, such HORSE may be deemed by the SB not to have started and the SB may declare it to have been withdrawn, provided that a horse which is ultimately declared first, second, third or fourth in a race by the judge shall not be declared a nonrunner.
61.5.10.3 Where a HORSE has been impeded and has lost distance as contemplated by RULE 61.5.10.2, such HORSE shall not be declared a non-runner if, in the sole discretion of the SB, such impediment and subsequent loss of distance was as a consequence of the HORSES own behaviour.
We also pulled out this rule:
61.6.11 The only HORSES which shall be deemed to have started will be those in the stalls when the starter releases the gates; provided that the SB after a hearing, may in its sole discretion and within the time period specified for the lodging of notification of an OBJECTION, declare any HORSE to be a non-starter.
"Sanity has to prevail. The rule is nonsensical. Today's incident proves it. Punters have to be protected and given a fair shot. The game has lost owners for various reasons over the past few years. Punters are leaving. Can we blame them? They are defecting to sports betting and other channels. There is no leadership. I don't think anybody in authority has any clue as to the impact this kind of circus has on the credibility and integrity of the sport. The industry is fragmented on top of it all. You are welcome to quote me. Somebody has to stand up and say enough is enough," said Hedley in closing.
‹ Previous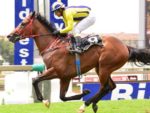 Van Halen Can Rock Them