Highlands Stud part of Ridgemont will host a stallion parade, featuring some of the Cape's most successful and exciting stallions, on 25 May 2018.

The event, which takes place at 18h00 on Friday, will introduce guests to some very exciting additions to the stallion band.
Highlight on the night is Highlands Stud's exciting new sire Canford Cliffs, a five time Gr1 winner, whose notable progeny include recent Gr2 Alister Clark Stakes winner Cliff's Edge and Gr3 Three Troikas Stakes vixen Fish River.
Canford Cliffs will be making his South African debut at the stallion evening.
Among the new or young sires set to be shown are Gr1 winners Admiral Kitten, star sprinter Rafeef, and Cape Guineas winner William Longsword.
The latter will be joined at the show by his stablemate Coup De Grace-the only son of thrice champion US sire Tapit at stud in South Africa.
Quasillo, a Sea The Stars close relative to prominent sire Querari, is another exciting young sire set to be shown at Highlands, while the Wilgerbosdrift based pair of Flower Alley and Soft Falling Rain (Bred by Highlands) are other popular stallions to appear.
Highlands Stud's outstanding resident sire Dynasty is sure to be one of the star attractions on the night, with other well known sires Jackson, Oratorio, Querari ,Vercingetorix  and Visionaire also set to be shown on the night.
For more information or reservations, interested parties can contact Amanda Carey on (082) 465 4020 or [email protected]
‹ Previous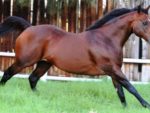 Oratorio's 50 Up