The L'Ormarins Queen's Plate Racing Festival is South Africa's most prestigious horseracing event and to celebrate the occasion factual related submissions were invited.
Congratulations and best wishes to Chris Swart, who will enjoy a trip for two, including flights and accomodation to Glorious Goodwood in 2018, or to the 2019 L'Ormarins Queen's Plate Festival.
Here is his story…

Blue, White & The Big Grey
The roll of honour of the L'Ormarins Queen's Plate is testimony to one of the finest races run over a mile in the world at undoubtedly the most beautiful course on this planet, writes Chris Swart.
I've been racing since 1983 and the first meeting I ever attended was the Jordache Derby won by Stella Maris but the course was still rumbling after the domination of Wolf Power in the 1983 Queen's Plate.
Wolf Power was a household name in the early 80's, dubbed "the big grey wolf". He was invincible over a mile, eight furlongs or 1600m no matter which of these synonyms was employed.  A grey colt by Flirting Around (USA) out of Pandora had appeared on the pages of Farmer's Weekly once displaying him at a sale where he fetched R30,000. My uncle had dug through his collection when I returned home for Christmas raving about an amazing grey horse and proudly showed me this.
He was back again in 1984 and by a stroke of luck or poor exam results on my side, I was too. This time I wasn't going to miss him for any money or an upcoming commercial law supplementary exam.
The papers and posters made it a walkover and I took the Friday train to the city with a walk down to Tattersalls, ready to part with my monthly allowance in full confidence it would be repaid with 40% interest on Monday morning. The rooms were abuzz with telephones ringing, shouting across the cubicles and there was a common denominator in all of the chatter. WOLF POWER.
Once my R100 was down with Jack Brodie, I hurried down to the Crow Bar, had a beer and ran the race in my head many times over. The thought of my beer and fast food money being lost just never appeared in the likely scenarios. Jehan Malherbe would wax lyrical about Wolf Power from the moment the gates opened and how easily he travelled into the straight. It would be race over by then.
I decided I wanted a clear head and early night and caught the train back to my digs in Observatory. To say I battled to sleep was an understatement.
I put my three piece suit on early Saturday morning, hopped on the train and headed toward Kenilworth. Disembarking on the platform, there was a buzz and Wolf Power was once again going to be the popular banker in the thousands of jackpots played on the day.
I wisely budgeted for the entrance fee, a few small bets and drinks because I was simply not going to lose four cases of beer before the race.
I grabbed a boerewors roll and strolled into the circle that separated the betting rings. It all seemed surreal, bookmakers all left the rooms at the same time and arrived at the course, setting up their cubicles. I eagerly waited for the feature race board to be priced up and I began to smile when I looked at the price. My investment had shortened to 1/3. With confidence soaring, my heart began beating faster. Just a few hours away and I'd see the champion in the flesh with Jeff Lloyd on his back. Everything seemed to be in slow motion until that point. Time was near standing still for the appearance of the big grey wolf.
When you wait for a champion to appear, the undercard is trivial. I can't remember a single other horse that ran in other races on the card and an hour before the feature race, I decided to take swingers, a dupla (now known as an exacta) and trifectas on the outcome. I'd place the bets early as I didn't want to get stuck in a queue minutes before the off.
The race kept being run in my head.
I envisaged Rain Forest making the pace but wilting when Wolf Power cruised up and the only possible challenger being Spanish Pool, a small handsome bay British import, so he'd be my swinger and dupla choice. It wasn't going to buy me a car nor afford me a date at Kelvin Grove but it would be a return on my outlay.
The trifecta looked very difficult as bar Wolf Power and Spanish Pool everything else was 20/1 and better. I saw my grey friend Stella Maris (preparing for the J&B Met) and Count du Barry there but couldn't figure out what would scramble into the placings. Rain Forest and Rise and Rule were top seven furlong horses that got the mile on class.
There were no hopers like Hawkins over a distance half of his optimum trip, the winter specialist Merasyn who was outclassed, former Guineas winner Heracles was past his best and declining form wise.
A scruffy ginger guy with a Cockney accent asked me what I liked and when I said Wolf Power, he laughed and said "from draw 13, he's got no chance". I asked him for 7/10 and he disappeared into the now bustling crowd as quickly as he'd sidled up to me.
The Hat Lady was resplendent in bright blue and she cackled away to her folded newspaper, studying her version of the outcome. 
I decided I'd bank Wolf Power for a win, float Spanish Pool for a place and include Rain Forest, Rise and Rule and Count du Barry for the placings in my trifecta. The permutation cost me R6 and I took it five times.
The rent money was down and that R1 coin was now weighing my right hand pocket down. It was my train money home. I skipped the idea of the dupla and my pocket lightened with a swinger on Wolf Power and Spanish Pool. I never contemplated a long walk home or hitching a lift.
It was nearing time and I hastily grabbed a seat at the top of the stand round the parade ring. I wanted to have the optimum vantage point to see the champion being saddled up and brought to the parade ring. I scanned the box allocated to him and suddenly he emerged with his groom, ears pricked and walking like he owned the course. He was too far away to look into his eye but my heart was now racing. Here he comes. You've finally met the horse you've been dreaming about. Here is the big grey wolf. Wolf Power was walking into the circle and you could cut the air with a blunt knife. All eyes to the left.
He was dappled, darker than I thought but it was his head and eye that told me everything. In front of that rippling muscled frame, his eye was what I read about in articles about Secretariat. I'd not seen this look before in a single horse that had walked around that ring in a year. Here was the look of an eagle. The dark eye, focused, intense and ready to take flight. He was absolutely breath-taking. He walked around and the bell rang. Jeff was given a leg up onto what looked a minute object on his back. He arched slightly and acknowledged the presence of his pilot and began to look more on his toes. He wanted to get out the ring and go into battle. There was little doubt in my mind
I cursed myself for opting for the top of the stand. I had to get down and see him parade and canter down. I descended two steps and then jumped down the side, worming my way through masses of people heading the same way. This was like the gold circle at a super rock concert.
I managed to get a slot on the rail just in time and just over an arm's length away, Wolf Power strolled past. I could almost touch this immortal animal and joined in the well-wishers cheering him on. I might have uttered "Ride him Jeff" as the crescendo began to ascend.
He turned just out of eyeshot and I watched him look ahead, Jeff rose in the saddle, took hold of the reins and he stretched out. There is no describing a perfect action. He just looked like an ultimate athlete, moving easily and covering ground with a large relaxed stride.
The battle for a place in the grandstand was now on and I managed to find room next to the owners and trainers in the main stand. Another of my heroes, Ralph Rixon looked gigantic next to me and I hoped he wouldn't feel offended when I cheered against his grey filly Grey Sun.
I could barely see the field circling at the start and didn't own a pair of binoculars. Everyone round me appeared to though and they were relaying the hustle to anyone listening without them.
They began loading and I could barely see or hear a thing. There was this constant build up in the volume of this crowd. It was like the build-up before a try being scored at Newlands down the road.
I couldn't hear the commentator but there was a roar when those gates opened and I heard someone say "Jeff got him over perfectly". The race in my head was being replayed live. The colours were a blur and I saw three greys in the field with the white cap all I was looking for.
The Kenilworth straight beckoned, Rain Forest was going strongly but the crowd was looking for his pursuer and he began emerging like he had been placed into the race on that corner.
"Go Wolf Power" and "Ride him Lloyd" were all I heard and at the final furlong pole, he looked like he was in another race. There was no danger, nothing was coming. He'd put away the pacemakers and Spanish Pool wasn't making an impression.
He was being eased down for his task ahead and the margin of two and a quarter lengths flattered Rise and Rule.
I wasn't really watching anything else, I started to run round toward the winners circle and found a front row seat. In the distance I could see the runners coming back.
Rise and Rule trotted into the second box which I noted on my Computaform and I saw Spanish Pool in the third box with David Payne getting the debriefing from Muis Roberts.
The noise and cheers were deafening when the champion trotted back in. Jeff circled him and he was lead into the winner's box. The reigning, defending champion was back
Wolf Power had won the 1984 Queen's Plate and I was there.
I watched him being led away with a slight sweat where his saddle and girth were and that was the last time I ever saw him again. I cashed in my tickets and walked back to the station with R200 in my pocket with my R140 before tax ticket to be collected that Monday.
Wolf Power had paid my rent for three months.
He unfortunately contracted biliary and declined but was exported to stand at stud in the United States.
It was also the last Queen's Plate I'd ever attend.
The magical race however has not lost appeal. I knew it was the true test of the best horses and the honours board before Wolf Power's double included Sea Cottage's double, Chichester's double, Yataghan, Sledgehammer's double, Politician's double, Over the Air and Foveros before him. All were names that each and everyone knew.
Being a more street wise and savvy student my studies revolved round midweek and Saturday meetings. I didn't have to rewrite exams, so I missed the Queen's Plate in the following years but I recall recording the Queen's Plate won by Spanish Pool.
I could probably tell you how he battled it out with the Oppenheimer owned Bodrum (another grey trained by Ricky Maingard) and the Millard trained three year old Prontissimo until my last breath as I listened to that race hundreds of times over.
David Payne had turned the table on Ricky Maingard this time.
The change over the years has been remarkable. The crowds dwindled with TV and telephone betting but what remained were the champions. They kept coming.
This was a race I would not miss. I'd be in the middle of nowhere but have my radio tuned to the Saturday sport stations to catch the race. Mark Anthony was one of those, Flaming Rock and Empress Club others. I loved this race because in almost every running, the real champion emerged. Every horse of the year would begin their quest by winning this coveted silver plate.
London News, Jet Master's double, Free My Heart winning twice in three years, Winter Solstice's double.
What happened after them can only be described as the race that is now remembered as his own. The dual winner Jet Master's son Pocket Power made this race his own for four consecutive years. In what became colours synonymous with him, the pink, white and blue of Marsh Shirtliff refused to yield. His legendary flat spot always had people holding their breath but that turbo would kick in and in a moment he was all over the winner.
If the race wasn't held in honour of Her Majesty the Queen, it would be renamed the Pocket Power Stakes and deservedly so.
Incredibly seven years after his retirement, novice race goers still ask if Pocket Power is running.
The marketing and dynamic emergence of L'Ormarins as a sponsor led to the return of the masses to the track. In their blue and white colours, the younger generation are encouraged to dress with elegance and style. It's not a party, it's a celebration. The champions are seen by this generation, just as I witnessed Wolf Power 23 years ago and we live with the hope and expectation that they will return with the household names on their lips like Legal Eagle who has thrilled them in the last two years.
This is a race I never said goodbye to. In 1984 I said adieu.
I'll be back Kenilworth.
In my finest light blue and white outfit.
‹ Previous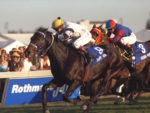 Can't Beat A Classic